Top 5 Romantic Things to do in the Royal Gorge Region
Walk Tunnel Drive
The ~2-mile section of Cañon City's Riverwalk trail allows you to catch some inspiring views of the Arkansas River.  You also encounter three historic tunnels on your walk / ride. One of the tunnels is over 400 feet in length, making the middle a perfect place to steal a kiss or whisper sweet nothings.
Watch the Sunset at Skyline Drive
Take
a drive up Cañon City's famed Skyline Drive in the evening and watch the sky turn from bluebird blue to hazy pink as the lights of the city below turn on. From the top, you'll be able to see the Arkansas River Valley and towards Pikes Peak in Colorado Springs. Keep your eyes on the road (not each other) as you descend the geologic ridge. From here, drive into town for dinner or head just a few miles to a cabin getaway.
Eat at Le Petit Chablis
This Cañon City standard has been serving up elegant, authentic French fare since 1989. With a classic menu that includes everything from lamb to beef and a variety of exquisite wines, you'll be spoiled for choice at Le Petit Chablis. The seating area is intimate and small, allowing for personal attention and an elegant atmosphere.
Spend the Night in a Luxurious Cabin Getaway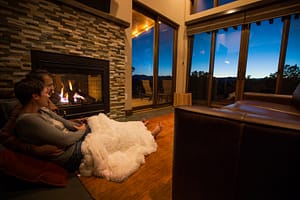 Watch the sun go down over the Sangre de Cristo Mountains as you and your sweetheart watch from the cozy comfort of a luxury cabin. At Royal Gorge Cabins, you'll experience the rustic elegance of the region. Turn on the fireplace and snuggle under a blanket as you sip wine.  Enjoy the quiet of rural Royal Gorge country. Relax in the spa-style showers, spend a few extra minutes in the plush beds, and enjoy the solitude of your own private patio in the morning.
Experience Point Sublime at the Royal Gorge
Fill your heart with wonder as you visit the Royal Gorge Bridge & Park's uppermost scenic viewpoint – Point Sublime. Follow the walkway pas the Skycoaster (and if you think shared adrenaline-fueled experiences bring people together, by all means, give that a go) and head up toward the historic stone pavilion. You'll catch views of the Royal Gorge Bridge, the river below, and miles of mountains in the distance. Catch a selfie at 1,000 feet!
The Royal Gorge Region's quiet location allows for you to enjoy quality time with your significant other. Take in the sights, find time to re-connect, and simply enjoy the beauty around you. With views like these, we'll bet you'll be holding hands as you hold onto the memories.