White Water Rafting Safety: The Importance of Going Rafting with Professional Tour Guides
While there is no doubt that white water rafting has inherent risks, going with a professional tour guide is the best way to increase raft safety for you and your family. Yet, not all rafting outfitters are created equal. You want to make sure you only book a rafting trip with a qualified company that emphasizes white water rafting safety.
Is White Water Rafting Safe With a Guide?
Yes, rafting with a trained guide is often much safer than going rafting without one. A guide is trained to mitigate the risks that go along with the sport. Professional rafting guides play a vital role maximizing raft safety and ensuring guests have an enjoyable experience on the river. Thus, the best white water rafting companies have expertise and training that are needed to meet the many challenges of the river, including navigating rapids and handling emergency situations.
Qualifications & Training
Well-qualified and properly trained rafting guides are critical for dealing with risk management and emergency preparedness – while also providing overall peace of mind for guests.
Rafting involves navigating unpredictable white water environments. However, trained guides possess the essential skills necessary to navigate rapids, obstacles, and water features. To ensure the best possible experience for our guests, Echo Canyon has one of the most extensive guide training programs in Colorado. With our guides behind the helm, guests can relax and enjoy their ride through iconic locales like the Royal Gorge.
Proper training also equips guides with environmental awareness and promotes important practices like Leave No Trace (LNT). In turn, trained guides know how to protect fragile river ecosystems, while also educating guests on how to do so.
Knowledge of Specific Rivers
Professional tour guides also have a deep knowledge of the specific rivers and rafting routes where they run trips. For example, the team at Echo Canyon are experts on certain regions of the Arkansas River, such as the Royal Gorge and Bighorn Sheep Canyon.
Experience with a particular body of water leads to an almost intuitive feel for the river's conditions on any given day. In turn, guides can enhance white water rafting safety by following the signs provided by rapids, water levels, and potential hazards. 
A deep knowledge of the historical and environmental significance of a particular region, river, or watershed also enhances the overall rafting experience for guests. Guides can share interesting facts about the river's history, wildlife, and geography – a practice that greatly enriches the overall trip.
Ability to Handle Emergency Situations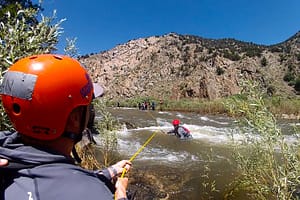 The ability to handle emergency situations is a paramount skill for raft guides. White water rafting is an unpredictable activity and rivers are notoriously dangerous. Professional tour guides are prepared to swiftly respond to emergencies like capsizes, injuries, or equipment malfunctions.
A guide's expertise in rescue techniques and swift decision-making can also be the difference between life and death during emergency situations on the river. Moreover, a guide's strong composure reassures passengers and prevents panic when accidents happen, while upholding white water rafting safety protocol.
The state of Colorado requires that all raft guides be certified in first aid and CPR. As such, they can also handle unexpected medical emergencies that happen on the river, but aren't necessarily linked to the actual activity of white water rafting. This is just one of the many safety measures for river rafting that professional guides take.
Having the Right Gear Onboard
Professional guides also have the right gear on board to make the rafting experience comfortable and enjoyable, while also keeping you safe on the river. 
Proper equipment—such as helmets, life jackets, and paddles—provides essential protection against the inherent risks of white water rafting. Not only does quality gear ensure a boat can be safely navigated in a river, but protective equipment also safeguards people's bodies from impacts with rocks, other rafters, and obstacles along the way. 
Echo Canyon provides wetsuits, splash jackets, and river shoes at no additional cost to our guests. As such, this extra gear will help reduce the risk of hypothermia, while also protecting your feet along the way.
Want a Safe, Fun Rafting Experience? Go Rafting with Echo Canyon
Looking to book a trip that prioritizes white water rafting safety? At Echo Canyon, our Colorado rafting guides are not only first aid and CPR certified, but also thoroughly trained in emergency preparedness. Book now or contact us to learn more about our featured trips!