How to Choose the Best White Water Rafting Company
Rafting trips in Colorado offer adrenaline-pumping adventures amidst the breathtaking landscapes of the Rocky Mountains. Yet, choosing the right rafting company is crucial to ensure a safe and memorable experience for your river adventure.
Not only will a rafting company be in charge of your family's safety, but they often make all the difference between having fun or struggling on the river.
By considering things like safety, experience, reputation, and equipment, you can choose the perfect company for white water rafting in Colorado.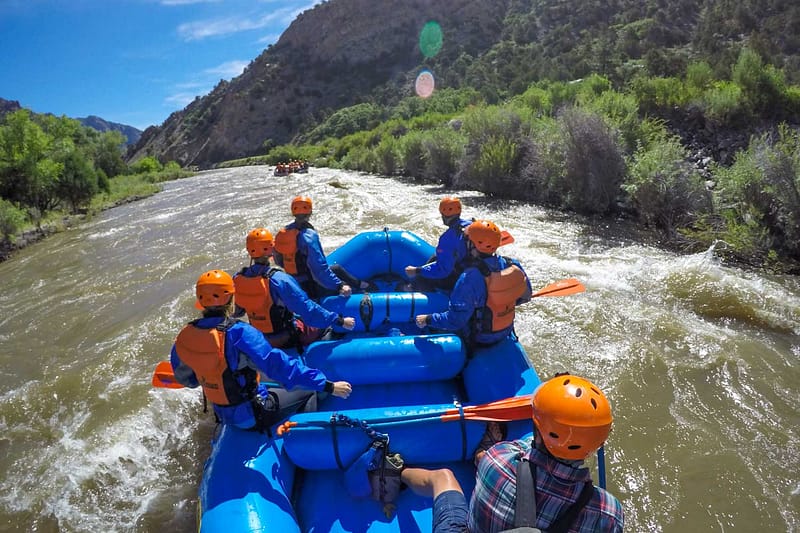 Needless to say, experience is one of the best ways to tell a quality operator from a lackluster performer. Echo Canyon's position as one of the best white water rafting outfitters in Colorado is evident in the fact that we have been in business since 1978. Over the last 45 years, Echo Canyon has learned how to best train guides, while also running an efficient rafting operation with a focus on safety. Experienced outfitters should make Colorado river rafting feel smooth and seamless every step of the way.
Whether you are doing a mellow float through in Bighorn Sheep Canyon or running the adventurous rapids of the Royal Gorge, safety is a foremost consideration when choosing a Colorado white water rafting company. You should always check if the company is licensed, insured, and certified by recognized organizations. A well-established rafting business with a solid track record of experience is always recommended. Online reviews are also a great way to get info on a company's safety standards.
White Water Rafting Guide Training
It's never a good idea to go on a rafting trip with a company that skimps on guide training. Simply put, poorly trained guides put everyone at risk. At Echo Canyon, we train our guides longer than any other Colorado river rafting company. While the bare minimum training requirements can be met in just a couple of weeks, we put our guides through a rigorous 5-week training program. As the season progresses, Echo Canyon continues training certified guides when water levels change or they move to different stretches of the river.
Attention to detail can make all the difference with a rafting tip. To illustrate, quality gear like rafts, wetsuits, helmets, booties, and life jackets are essential for a safe and enjoyable experience. With 45 years in the industry, Echo Canyon knows all the ways to enhance amenities for guests – including shuttle vehicles, lodging options, adventure packages, and food and beverages. All things considered, Echo Canyon does the hard work so you can relax and have fun.
When you truly love what you do for work, it shows. The whole team at Echo Canyon loves nothing more than spending time on the Arkansas river and giving guests the vacations of their lives. Echo Canyon brings this passion to every aspect of our operation, including reservations, check-in, safety briefing, and the trips themselves. We even offer video and photo packages so we can document your entire Echo Canyon river adventure.
Environmental Stewardship
Responsible tourism is vital to preserving the natural beauty of Colorado's rivers. Look for rafting companies that prioritize sustainable practices – such as minimizing waste, supporting local conservation initiatives, and promoting environmental education. Every rafting outfitter should promote Leave No Trace principles and educate guests on ways to preserve fragile river ecosystems.
Go White Water Rafting with Echo Canyon!
Ready to embark on an exhilarating Colorado rafting adventure? Book now for your unforgettable rafting experience with Echo Canyon River Expeditions and prepare to conquer the rapids!