24 Hour Overnight Rafting Trip
Your 24-hour rafting trip on the Arkansas River includes an afternoon half-day rafting trip, a freshly prepared hot camp meal, camping at our private river landing, a hot breakfast in the morning, and another exhilarating half-day rafting trip trip on day two! Your guide will be with you every paddle stroke of the way on this Echo Canyon exclusive overnight trip. If your group includes a few adrenaline junkies, you can choose to raft on the class IV Royal Gorge twice in two days. Or, if you're looking for a gentler introduction to whitewater rafting, you can raft class II-III rapids on your first day on the river and class IV rapids on the second. (Rapids are classed on a scale from I-IV.) We also love showing families with kids the Bighorn Sheep Canyon section of the river, which offers perfect rapids for children as young as six. If you have time and are interested in a longer trip, like our two or three day overnight rafting trips, check out our extended multi-day trips page.
Options of white water depending on your adventure level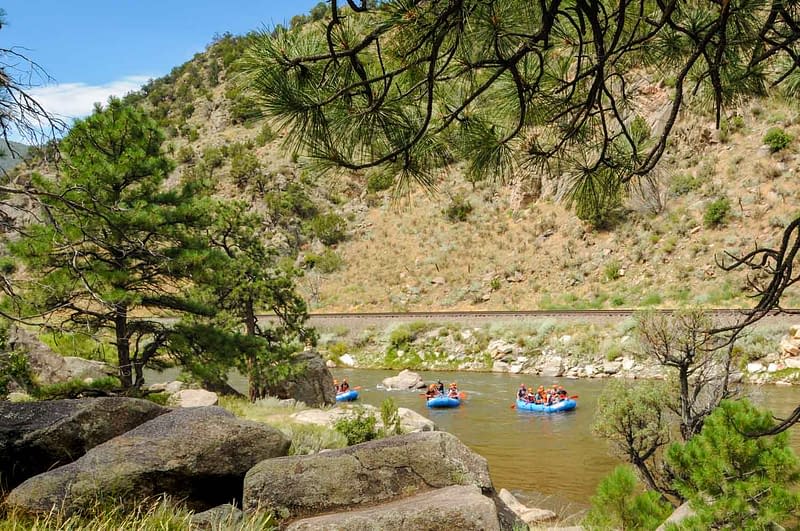 Top quality equipment and well-trained guides
Enjoy a relaxing evening in camp
Details of Your Overnight Rafting Experience
We take care of the details on all overnight white water rafting trips, including:
transportation to the river from our Echo Canyon office near Cañon City

tents

sleeping bags

camp pillows

full wet suit package
Please reference our overnight packing list for recommendations on what additional items to bring on overnight rafting trips.
After enjoying your trip in the afternoon on your first day of rafting, a hot, delicious dinner will be served at our private campground. There's no shuttle between the river and our campground, as it is located alongside the river – just get out of your boat and you're there! As day turns to dusk, enjoy some time swinging in our hammocks or just sitting by the river.  You'll listen to the lapping of the water against the shore and sleep beneath the wide open Southern Colorado sky. In the morning, your guide will serve up a hearty breakfast. You'll have plenty of time at the campground to relax and enjoy the morning before hopping back on the raft for your second half-day Arkansas River rafting trip. You'll feel like a seasoned pro as you head out on the second and final excursion of the trip. When your trip is done, we'll transport you back to the office, where you can make use of our convenient changing rooms. You may even want to stay on a little longer and check out 8 Mile Bar and Grill! (Lunch is not included in the trip itinerary.)  While this trip will revitalize and refresh you, we can almost guarantee that you'll want to come back to experience another of our adventures, perhaps one of our two or three day extended overnight rafting trips!
Call us at 800-755-3246 and ask to speak to an overnight coordinator in order to book one of our overnight white water rafting trips!