Why Guided Rafting Trips May Help Relieve Anxiety Symptoms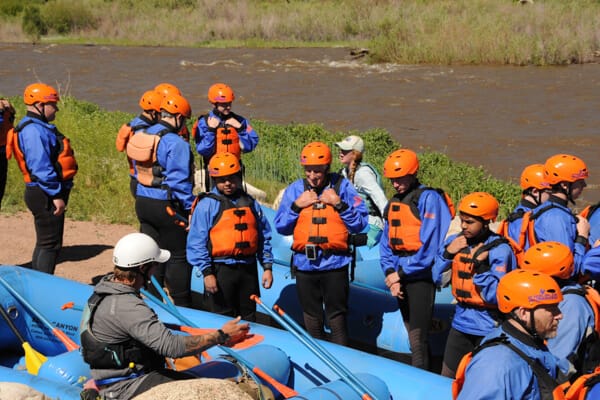 Whether you are new to rafting or don't know how to swim, there are many reasons why people have anxiety about river outings. Luckily, going on a guided trip with an experienced outfitter will hopefully calm many of your white water rafting nerves.
First-time rafters or families with young kids often experience some level of anxiety leading up to a white water rafting trip. If you are wondering if white water rafting is dangerous, don't worry, it's perfectly normal to be a bit nervous before an outing.
Here we'll explain how going on a guided trip can alleviate much of the anxiousness that often come with white water rafting. Hopefully, this information will help you relax and maximize the fun on your next trip to Colorado.
Book a Trip That Matches Your Group's Skill Levels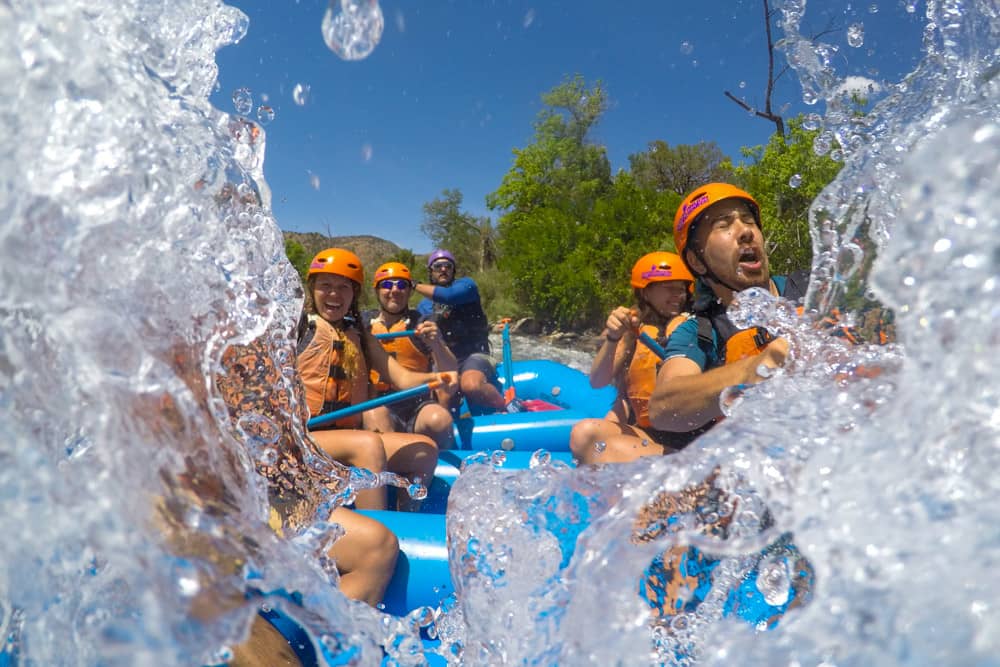 One of the simplest ways to ensure that your rafting group is comfortable is to book a trip that matches everyone's skill levels. Importantly, while you might be okay with running Class IV rapids, you also need to be aware of everyone's abilities in your group. In the end, you should always choose a section of the river that feels comfortable for the least experienced people in your party – including young kids.
Your outfitter should be able to answer any questions you might have about different trip choices. At Echo Canyon, we have excellent family rafting trips such as Bighorn Sheep Canyon. Starting with a mellow trip will allow your group to ease into white water rafting before trying anything more challenging.
Along with this comes the topic of swimming ability which is so closely tied to confidence on river trips. It's a personal choice if you decide to go white water rafting and you can't swim. If this is the case, be sure to let your outfitter know before you book a trip so they can steer you towards the most appropriate trip. It is always preferred to have some level of swimming ability before heading out on a raft trip – not just for safety reasons but your peace of mind as well.
Talk to Your Guide About How You're Feeling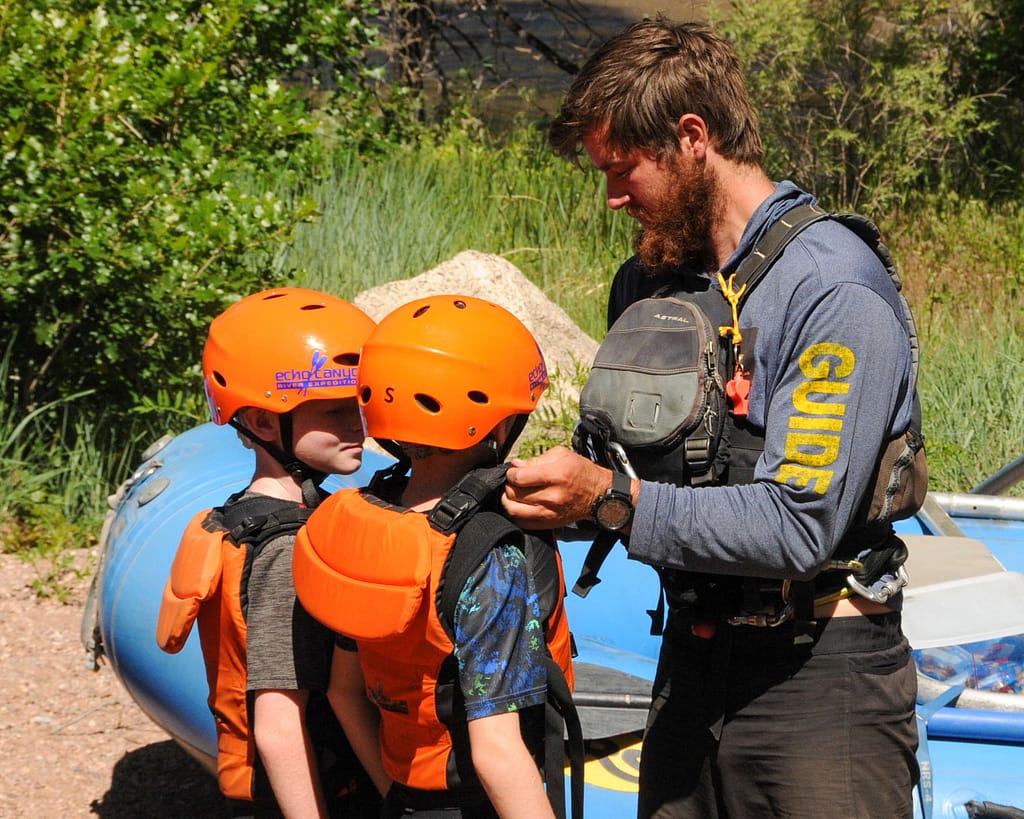 The rafting guides at Echo Canyon are extremely well-trained. Our team is well-prepared to work with nervous guests and will gladly talk with you whenever needed. Just let your guide know you are having a hard time, and they will you get the attention you need and deserve.
Asking a lot of questions is a great way to calm yourself down before a rafting tip. An important line of questioning might focus on emergency procedures. You can also ask your guide about the conditions of the river and any potential challenges that might be waiting for you. That way, there won't be so many "surprises" waiting for you when your trip finally starts.
Every legitimate outfitter should give a thorough pre-trip safety briefing before heading out on the water. These talks offer another great chance to alleviate anxiety on a rafting trip.
Safety briefings cover important information about the stretch of river that you will be running, as well as emergency procedures. You can count on the safety briefing to touch on the important gear and planning advice – such as directions on how to wear your lifejacket and helmet. This talk should also discuss current river conditions and the different classes of rapids to expect on your trip.
The safety briefing should include key river terminology and give the group clear expectations on paddling and expectations of you and other guests over the course of the rafting experience. Again, the safety briefing is also a great time to ask questions if you are nervous.
Tips for Overcoming Fear on the Water
The keys to feeling comfortable on the water are different for everyone, but some people like to sit close to the guide so you can hear directions. Others feel better after their guide checks their lifejacket, helmet and other safety gear.
In order to steer the boat, your raft guide will always be seated at the back of the raft. As such, sitting towards the back will always ensure you can hear the guide's directions, while also shielding you from the main impact of the rapids. Your guide can also keep a better eye on you if you are seated close to them.
You should also make sure that your helmet and life jacket are fitted properly and tight enough to keep you safe. It's important to make sure these critical pieces of equipment stay on your body when it matters most, while also not being too tight and uncomfortable.
Experience is the Best Solution for Quelling White Water Rafting Nerves
Just like anything else in life, experience is the best teacher for quelling your anxiety on a rafting trip. Simply put, it's easy to make a big deal out of things in your mind until you actually go out and do them. However, when you finally experience the splendor of the river, you quickly realize why so many people book these trips: they are tons of fun!
At Echo Canyon, we are quite used to seeing first-timers breathe a huge sigh of relief after successfully paddling their first set of rapids. After that, they often wish the trip was longer and that they booked a full day instead of a half day.
Book Your Rafting Trip with Echo Canyon Today!
Echo Canyon River Expeditions has some of the most experienced raft guides in the industry. Our team will ensure not only that you book a rafting trip that matches your abilities, but also that everyone in your group gets the care and attention they need on the river.
Contact Us today to book your next rafting adventure!