Where is the Best White Water Rafting in the US?
Where is the Best White Water Rafting in the US?
White water rafting is second to none when it comes to thrilling outdoor adventures perfect for adrenaline junkies and nature lovers alike.
Paddling down a picturesque river is an idyllic way to experience the ruggedly beautiful scenery of the diverse landscapes across the United States. You'll find yourself surrounded by peaks on both sides as you rush underneath countless 14ers in Colorado, or in the sun as you carve your way between impressive canyon walls in the Royal Gorge.
If you're looking for a summer vacation you'll not soon forget, road-trip across the United States and stop by some of the best whitewater rafting spots in the country. We've compiled a list of our top five favorite rafting spots across the US. Read on to learn what river we picked as the #1 rafting destination in this rugged, breathtaking country.
#5: Penobscot River, Maine
The Northeastern United States has no shortage of amazing white water rafting spots. To beat the crowds, make it up to Maine, where the Penobscot River offers exciting trips away from the crowds that you'll find in other northeast states. Here you'll find remote scenery, granite-walled canyons, and exhilarating rapids.
The Penobscot River is open throughout the summer, with full- and half-day trips available, as well as soft adventure trip offerings for families with kids.
#4:Chattooga River, Georgia & South Carolina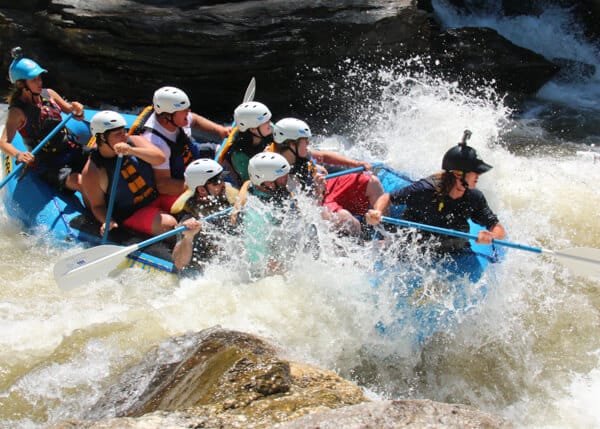 Chattooga River is the premier rafting destination in the Southeastern US. Here you'll find rafting ideal for beginner and adventure rafters alike, along with miles of trout fishing and gorgeous mountain scenery. One of the best things about this stretch of river is that it's able to be rafted throughout most of the year, with trips running from the beginning of March through the beginning of November.
This rafting spot is located not far from Asheville, North Carolina, a gem of a city for nature and food lovers alike. Pair your river experience with a stay in an unforgettable city with miles of hiking and mountain biking trails. You can even spend some time in the bustling southern city of Atlanta, Georgia, which is not far from this exciting white water.
#3: Tuolumne River, California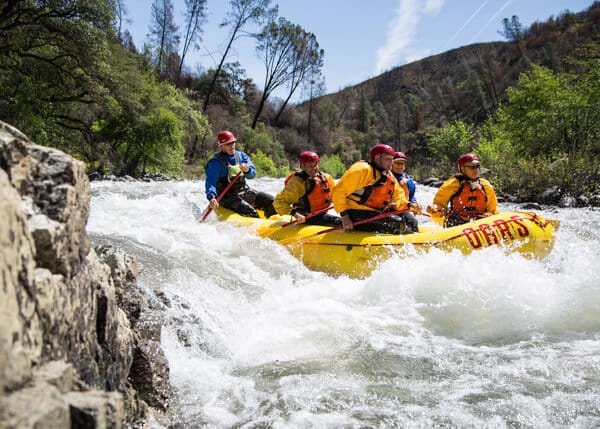 If you're an adventure-rafter looking for a challenging thrill, look no further than the Tuolumne River, where water from Yosemite National Park drains into the Cherry Creek section. This is by far one of the most difficult and thrilling stretches of commercially rafted whitewater around.
Be aware: this is not the trip for beginners, but for those who have experience, are physically fit, and are ready for a challenge. Be ready to paddle through intense drops and memorable rapids as you make memories with your fellow adrenaline junkies. Here you'll find both single and multi-day trips.
#2: Colorado River, Arizona
If you're a nature lover, you've no doubt heard of, or even visited, the Grand Canyon National Park. What better way to enjoy this scenic canyon than to take a multi-day trip through it? Here you'll find skies filled with twinkling stars and hidden waterfalls along your sunny adventure. You'll learn about the rich Native American history of this region, and experience rafting appropriate for all levels.
While trips can be expensive, many describe these multi-day rafting adventures as the trip of a lifetime.
#1: Arkansas River, Colorado
Running 150 miles from Leadville to the great plains, the Arkansas River travels through some of the most breathtaking scenery in all 50 states. It winds underneath some of the tallest mountain peaks in the Rocky Mountains with miles of isolated wilderness teaming with fish, birds, and other wildlife.
Here you'll find white water perfect for all levels, with plenty of class I-III waves for beginners, III-IV waves for beginning adventurers, and even class V waves for those who have some experience under their belts. One of the most exciting stretches of the river can even be taken on by adventurous beginners: the Royal Gorge.
The Royal Gorge Bridge is the highest suspension bridge in Colorado, and it's right along one of the most thrilling stretches of the Arkansas River. Here you'll find plenty of class III, IV and even class V rapids that will get your family paddling like crazy, laughing and working hard all the way down the river.
And being in Colorado, there are countless outdoor adventures that you can enjoy in combination with rafting, including mountain biking, zip lining, train rides, Gold Medal fishing, and more.
If you're ready to paddle down the Arkansas River, give us a call here at Raft Echo. We can help you plan every aspect of your trip, from rafting and lodging to dining and other outdoor experiences.