Mid-Summer: Perfect Water Flows on the Arkansas River
If there is a "perfect" time to go rafting, that time is right now. Why? In mid-summer, we experience the perfect combination of warm weather, moderate water flows on the Arkansas River, and consistent availability of the Royal Gorge.
Warm Weather and Water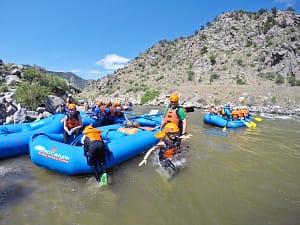 Summertime in Colorado features a wealth of weather conditions. Mornings usually bring bluebird skies, sun, and a light breeze. Temperatures most often reach into the mid-90's. By the time you get on the water, situate yourself in the boat, and get going, you'll be ready for that first big wave to cool you off! We may even stop alongside the river and take a quick dip in the water!
Even the water itself has had a chance to warm up. It's been on a journey from the mountains above Leadville, Colorado. Instead of the newly-melted snow of spring, mid-summer brings in warmer reservoir water, rain-fed creek water, and mountain runoff. Summer water flows on the Arkansas change from chilly to tepid, and the water temperature can be upwards of 60+ degrees in July. In the late afternoons, after most rafting trips are off the river, big, beautiful thunder clouds roll in. They bring much-needed moisture to the alpine desert environment that cradles the Arkansas River Valley. (That's our favorite time to relax on the patio of our favorite restaurant, watch the storm pass, and enjoy a hot meal.)
Moderate Water Flows on the Arkansas River
Early in the season as the snow on the Sangre de Cristo Mountains begins to melt, we see the highest water flows. These levels can be as high as 4,500 cfs or more. (A cubic foot is about the size of a basketball. So at any given moment, you'd see 4,500 basketball sized units of water floating past you.) The waves are big, the trips are adjusted a little bit, and everyone gets soaked. As summer wears on, however, the water flows slow to some degree. They tend to hold steady at about 1,200-1,800 cfs for a few weeks.
Why is this the perfect level? Firstly, all of the trips go back to "normal". The Royal Gorge is open, Bighorn Sheep Canyon settles into its class II-III range, and the upper Bighorn Sheep Canyon / Family Float trip is once again the scenic, slow-paced trip that is perfect for families with smaller children.
Secondly, guides love this level. These water flows on the Arkansas River remain fairly consistent for a few weeks. Guides get to know exactly what "lines" to take and where certain obstacles are in the river. They know exactly where to position the boat to get the most out of each and every wave while staying away from rocks or other obstacles.
Lastly, the river is a perfect balance of fun waves and manageable maneuvers. Just as with surfing, some swells are the perfect size, and some should only be attempted by the likes of true Mavericks. The Arkansas at 1,200-1,800 cfs is like a perfect 3-foot-swell day in San Diego. Your guide will probably do their best to maneuver you right into those big pillows of whitewater so you can get soaked! At these water flows in the Royal Gorge, you don't have to have giant biceps, you don't have to train on the rowing machine beforehand, and you don't even have to have prior experience to raft at this level. It's fun for everyone!
Perfect Water Flows in the Royal Gorge
For those who are looking for the best possible adventure-class rafting on the Arkansas River, there is no better time to make a reservation for the Royal Gorge. At these water flows on the Arkansas River, there is very little chance of the Gorge closing, which does happen at higher water flows in May and June. You'll be sure to see some of the most famous rapids on the river – Sunshine, Wallslammer, Sledgehammer – and then some.
The class IV-V rapids are still tons of fun, but they lose the intimidating edge that they seem to have at higher water flows of 2,500 and beyond. You'll still see big holes and crashing waves, and your guide will keep your arms moving as you navigate the exciting class IV-V rapids under the most iconic bridge in North America. At moderate water flows in the Royal Gorge, you don't necessarily need prior rafting experience to join a trip. You'll just need a sense of adventure.
If the warm weather, perfect water flows on the Arkansas River, and gorgeous Royal Gorge don't convince you to visit soon, just remember that there are plenty of other folks who like to sneak in one more vacation before school starts. Spots fill up quickly in late summer. Book your trip, your campground or lodging, and head out to see us!