Royal Gorge Rafting During Spring Runoff
The Arkansas River is fed primarily by snowmelt, so as the summer temps head upwards, so do our water levels. What does this mean for your Royal Gorge rafting trip? It means big water, big fun, and a few changes.
What do we mean by "Big Water"?
In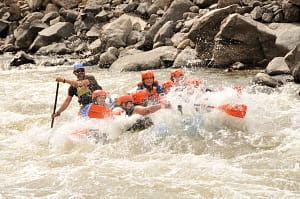 the winter, if you visit sleepy Cañon City, Colorado, you'll notice the Arkansas River flowing at about 400 cubit feet per second. (A cubic foot is about the size of a basketball, so at any given second, 400 basketball-sized units of water are flowing past you every second.) At this time, we're not running any Royal Gorge rafting trips, because the weather is cool and the water is low. In late May and early June, however, things change. As the snow melts and sends water down through the mountains and into the Arkansas River Valley, the water level soars into the thousands. At this time, it is not unusual to see 3,000 cfs for a few weeks.
Big water is Big royal gorge rafting Fun!
When the water gets bigger, so do the waves. Instead of little splashes that we see in the spring, your boat is going to be paddling hard to hit those massive whitewater waves. Rocks that are usually above-water are now underneath the surface, causing big, fun, exciting waves. They completely change the topography of the river, and what was once a mild river is now nature's roller-coaster. You'll dip, dive, punch through, and ride high on those fantastic features, and we're willing to bet you're going to want more at the end of your trip.
Little Changes for a  big royal gorge rafting Trip
As with any time of year, your safety is our number-one concern. The Arkansas river is unique in that it features a number of "sections" (there aren't really any physical divisions other than where we put-in and take out – they're like state boundary lines) that offer varying levels of whitewater. When the water hits 3,200 cfs, the Royal Gorge is no longer commercially raft-able. (All of the commercial outfitters on the river adhere to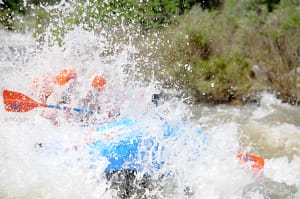 this guideline – you won't find any legitimate companies that run the Royal Gorge at this level.) Bummed out? Don't be! If you're looking for first-class adventure whitewater, we'll send you to Bighorn Sheep Canyon, which (at this water level) is a solid Class III-IV section. You'll be rafting what is normally the family-class section, but is now an amped-up version of it's low-water self. Giant hits in Spikebuck, Sharks Tooth, and others will be sure to soak you. By booking the "Royal Gorge rafting" trip at high water, you'll also be paired with an experienced Royal Gorge-certified guide, which means that they know how to maneuver a boat to make the best of every rapid. They're trained in the art of "big hits", and will make your trip as exciting and safe as possible.
Not up for adventure-class? No worries! The upper Bighorn Sheep Canyon, located upstream of what is now the "Royal Gorge rafting" run, is now a fantastic family-class section, with a few Class II-III rapids that are perfect for families, kids, or first-time rafters. On this section, you can either paddle or relax as your guide takes you down the river. Get ready for some fun splashes on this trip, because you're bound to get wet! This section offers amazing colorado scenery, rapids, and some relaxing stretches in between that will give you time to enjoy the sights, each other, and your Colorado vacation.
If you're looking for a relaxing family float, we may suggest that you come back later on in the season. Do we hate turning you away if your vacation time is limited? Yes. But are we committed to keeping our guests safe? Absolutely. We won't book you on a trip that we don't believe to be safe for your group or family.
Check out our Facebook page for more information and videos on current conditions. And please give us all call at 1-800-275-3246 if you have any questions regarding your Royal Gorge Whitewater Rafting trip.