Top 5 Southern Colorado Vacation Destinations
There's plenty to do south of Denver on your Colorado vacation. Whether you're into mountain biking, hiking, history, sight-seeing, or soaking in a hot springs pool, you can find a destination in Southern Colorado (especially near Colorado Springs) that will help you relax, recharge, and reinvigorate. Cañon City and Colorado Springs make the perfect jumping-off points for many of these beautiful, historic western locations. Before or after your rafting trip, try some of these great destinations to enhance your Colorado vacation!
Brown's Canyon National Monument
Brown's Canyon National Monument – It's one of Colorado's newest national monuments, and also one of it's most beautiful. A pristine, natural canyon, Brown's Canyon offers visitors the opportunity to hike, raft, or camp in the headwaters of the Arkansas River. Towering ponderosa pine trees and monolithic boulders greet you along this amazing stretch of white water. We may be biased, but we think the best way to see it is by raft. There is also fantastic camping along the river at various locations. Browns' Canyon is also close to the small town of Nathrop, which offers a number of hot-springs resorts that are perfect for relaxing after a day of adventuring, including Antero Hot Springs Cabins, Mt. Princeton Hot Springs Resort, and Cottonwood Hot Springs.
Great Sand Dunes National Park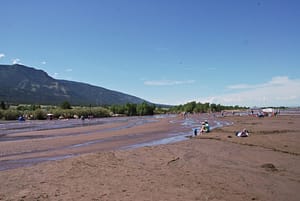 Great Sand Dunes National Park- A few hours south from Cañon City will take you to this fascinating and inspiring park. Towering sand dunes as far as the eye can see offer hours of entertainment as you explore the rolling hills, flowing creek (visit in May or June for the best chance to see flowing water), and the visitor's center. Kids can even earn their Junior Rangers badge! The park has a campground and is a perfect place to get away from the lights, hustle, and bustle of everyday life. That's what your Colorado Vacation is all about, right? Additional overnight accommodations are located nearby.
They Royal Gorge Park
T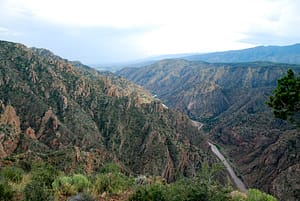 he Royal Gorge Bridge & Park – Just a few minutes away from Echo Canyon River Expeditions office, you'll find Colorado's Natural Wonder – the Royal Gorge. In 1929, the Royal Gorge Bridge was built across the gorge and still stands as one of the world's greatest engineering feats. Buy tickets online or as a rafting package to save a few dollars. The newly rebuilt attractions and visitor's center enhance your experience of this amazing chasm and expansive view of the Wet Mountain range. There are also trails, located just before the gates of the park at the rest area, that allow visitors to walk or bike a few miles along the rim of the Gorge. 
Pikes Peak
Pikes Peak – "America's Mountain" is one of the most iconic and beautiful vacation destinations in the West. Rising over 14,000 (making it one of Colorado's many 14-er's) feet, Pikes Peak has inspired Americans, including Katharine Lee Bates – who wrote "America the Beautiful" after summiting, for generations. There are a number of ways to enjoy it on your Colorado vacation, including by bicycle (ask us about our exciting mountain biking / rafting packages!) Or ride the historic Cog Railway to the top, where a new visitor's center is being planned. Our tip: try the donuts – they're amazing! 
Cripple Creek, CO
Cripple Creek / Victor – If you're a history buff, a wild west fanatic, or a fan of quintessential Colorado scenery, you'll love the towns of Cripple Creek and Victor. Both towns offer a number of easy and fun hikes (we love the Vindicator Valley Trail) that showcase the area's rich mining history. Visit the Mollie Kathleen Gold Mine for a unique trip through 1,000 feet of rock and into a real mine. There are also a number of enchanting local hotels that warrant a night's stay (or two!) on your authentic Colorado vacation.
The Royal Gorge Region offers plenty to do for everyone in your family. Any Colorado vacation isn't complete without a healthy dose of adventure, relaxation, and excitement! The Colorado Springs / Cañon City area can offer all of this and more!