Pro Tips for Cold Weather Rafting Trips
Pro Tips for Early or Late Season, Cold Weather Rafting Trips
Whether it be to beat the crowds or take advantage of high-water flows, there are many good reasons to go rafting in colder weather.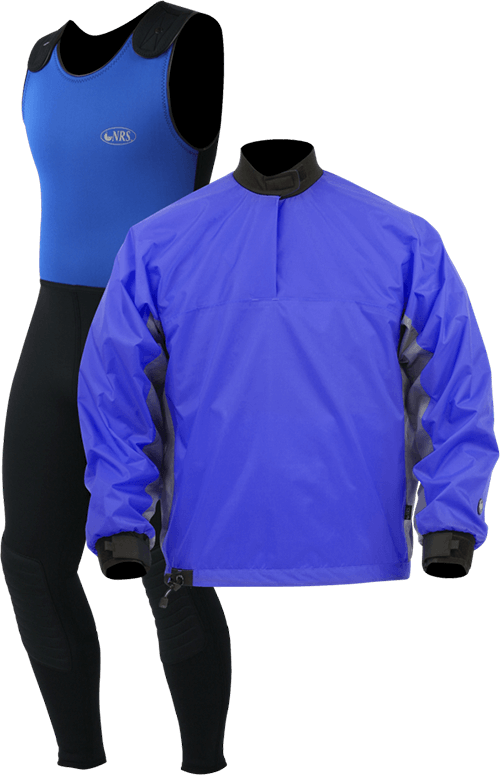 Nonetheless, you'll want to take the right steps in getting prepared if you hope to maximize your enjoyment and not let the cooler conditions cool down the enthusiasm. 
As one of the top rafting outfits in Colorado, Echo Canyon River Expeditions takes great pride in teaching our guests about proper safety measures. Not only can we help you plan for white water rafting in cold weather, but we also have essential gear like wetsuits, river shoes, and splash jackets. 
With good preparation, you can get the very most out of a Colorado rafting vacation in times like May and September.
Why Go Rafting in the Early Season?
The rivers in Colorado are largely fueled by snowmelt. The towering peaks in the Rocky Mountains collect massive amounts of snowfall throughout the winter months. When springtime finally arrives, snow melts into streams and flows into watersheds like that of the Arkansas River. As such, you can count on the early season rafting months offering the highest water flows for white water rafting. 
If you are interested in a heart-pumping rafting adventure in Class V rapids, then booking a trip in late May or early to mid-June is going to be your best bet. While early-season rafting offers the biggest white water, it also requires the most preparation and planning. Wearing items like wetsuits and river shoes is essential for both safety and fun on cold-water trips.
What is Weather Like in the Spring and Fall in Colorado?
Shoulder seasons in the spring and fall have predictably cooler weather than peak summer months like July and August. Nonetheless, shoulder seasons still offer great weather to get outside and play. 
If you want to visit Colorado for an early-season rafting trip in May or early June, you should count on daytime temperatures between 55-75 degrees F. Since regions like Cañon City have dry climates, nighttime temperatures often drop down quite dramatically to 35-45 degree F. 
A late-season trip in September will offer smaller crowds, but slightly cooler weather than peak summer. Likewise, the Arkansas River usually flows quite low this time of year – which can be great for families with small children. Either way, in September you should count on daytime temperatures between 55-80 deg F and nighttime temperatures in the 35-50 degree F range.
Book an Afternoon Trip & Bring Extra Layers
If you want to go white water rafting in cold weather but you are concerned about the conditions, you should consider booking a half-day trip in the afternoon. Since temperatures swing greatly between night and day in the mountains, afternoons will offer the warmest temperatures and strongest sunlight.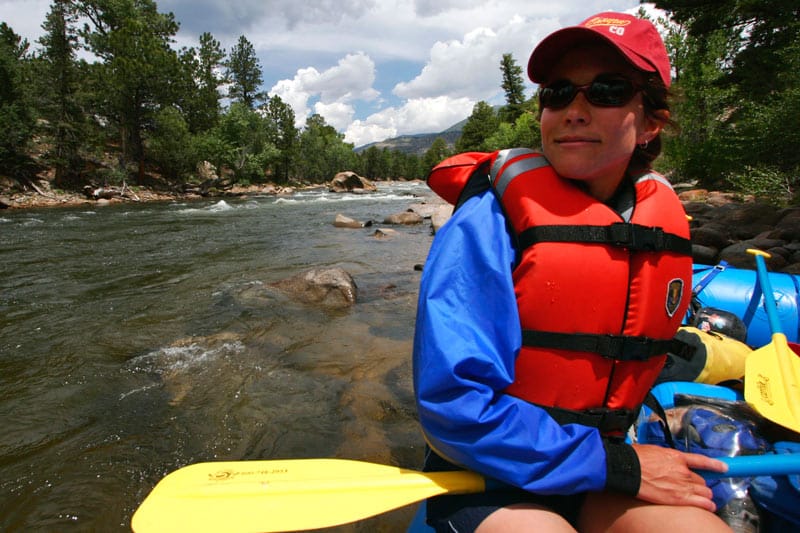 Echo Canyon River Expeditions provides half-day afternoon trips in popular locations like Bighorn Sheep Canyon and the Royal Gorge. Since it's sunny in Colorado for 300 days per year, you are almost guaranteed beautiful afternoon weather – even in the shoulder seasons. 
Adding additional synthetic layers on top of the wetsuit like lightweight fleece with a nylon jacket on top is another way to stay warm in the shoulder season months. In fact, a simple rain jacket can go a long way to keep your upper body warm and protected. For really cool weather and cold-water trips, consider wearing a microfleece beanie on your head.
Cold-Weather Rafting Trip Gear Essentials
To keep you warm in cooler weather, rafting outfitters like Echo Canyon River Expeditions rent wetsuits and booties. 
While cold air can make your rafting trip a bit more uncomfortable, cold water is downright bone-chilling – especially with fresh snowmelt in the springtime. To protect yourself against hypothermia if you fall in the cold water, you are well advised to wear a wetsuit or synthetic layers under water repellent layers to maintain body heat. To keep our guests safe and happy, Echo Canyon offers neoprene wetsuit rentals for our clients in the early season or even mid-summer for those who feel the need.
Neoprene wetsuit booties are also a great idea since your feet are oftentimes in contact with the river water for the duration of your trip. Even if you don't fall in the river while rafting, your feet are wet basically the whole day. This can make for an uncomfortable dynamic with chilly river water and cooler weather.
Book a Shoulder Season Rafting Trip with Echo Canyon Today!
If you want to take full advantage of the heart-pumping white water on the Arkansas River, planning an early-season trip is your best bet. In the event that you have a family with small children, late summer offers a quiet time in Colorado with mellow river conditions. 
Contact Us to book a rafting vacation and reserve essential shoulder season gear!