How to Prepare for White Water Rafting Day Trips
The time has almost arrived. You and your friends or family are going to head into the gorgeous Colorado wilderness for a wet and wild trip you won't soon forget. When you look back at the memories you create, you want to remember the fun and the thrills…not the things you'd wished you'd known. 
Fortunately, there isn't much that you'll need to bring with you when you head out on a group whitewater rafting adventure. But it still pays to be prepared.
How Do You Prepare for Your Raft Trip?
Step 1: Plan the Right Trip
The first step to getting you and your group ready to hit the waters is to make sure that you've planned a trip that works for everyone. Talk with everyone who's going to see how they're feeling. Are they excited and ready to battle some challenging rapids? Or are they a little bit intimidated by the idea of paddling through rough sections? 
You want to be certain that you've chosen a rafting trip that is appropriate for everyone. The best strategy is to choose the difficulty level based on the smallest or least adventurous member of your party. While a gentle family float offers something for everyone, a white-knuckling adventure is only suited for older, fit thrill-seekers.
Step 2: Know What to Expect
It's always nice to be mentally prepared and ready before the day of your Colorado rafting trip. Read about the rafting trip that you've chosen, and contact the rafting outfitter if you have any questions. 
You'll want to know where to meet, when to get there, and what the conditions are like. This includes the weather—even if it's warm in Denver, the mountains could be chilly, and the water is generally quite cold. Once you know where to go and what to expect, you can get everything ready.
Step 3: Plan What to Pack for a River Rafting Trip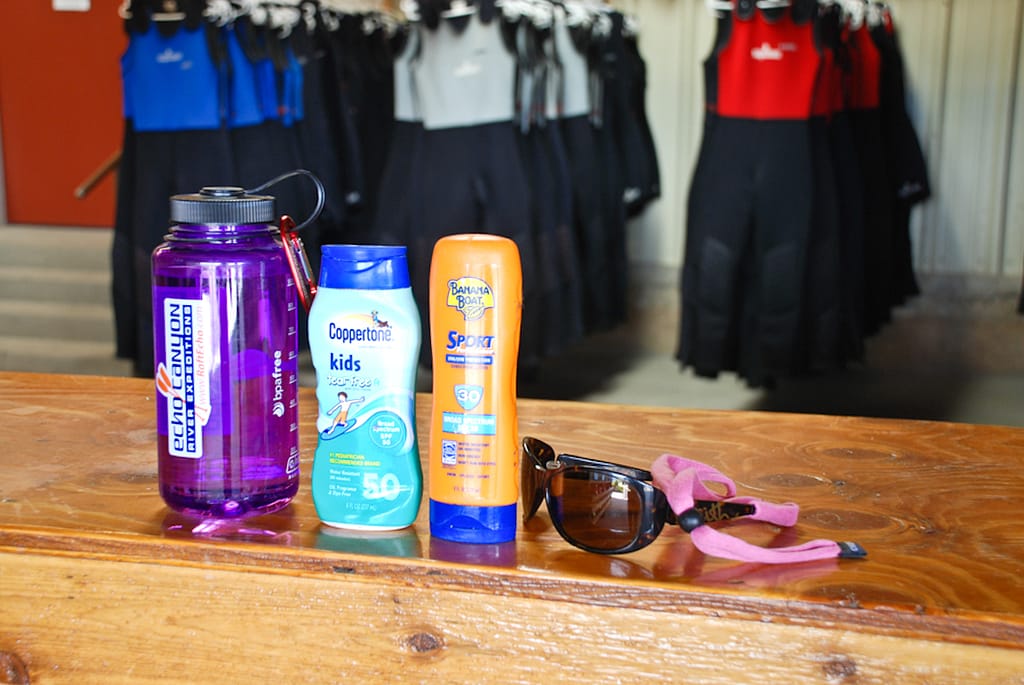 Once the day draws near, you'll need to collect the necessary gear. You likely already own everything you need, but it might pay off to grab some supplies. 
When you go on a half-day or full-day rafting trip with Raft Echo, we recommend the following packing list.
Whitewater Rafting Gear Checklist
Short sleeve or long sleeve synthetic shirt—fabrics like cotton will weigh you down when they get wet 

Water resistant shell – not always necessary, but on cooler days a shell or renting a splash jacket at check-in will keep you more comfortable

Swimsuit bottoms/swim trunks/board shorts

Secure footwear—water shoes are a wonderful choice if you have them, but tennis shoes that you're okay with getting soaked also work. Echo rents river shoes if you leave yours at home.

Wetsuit if you own one—Raft Echo carries wetsuits for rent, although you won't always need one 

Water bottle

Waterproof sunscreen

Sunglasses with a strap to keep them secured

A water-proof, secure pouch for your phone if you bring it—we recommend you leave your phone in a locker at our headquarters

A dry change of clothes and shoes for when you get back
Step 4: Plan Out the Rest of Your Trip
When you head to the mountains for a half-day or full-day of rafting, you may be able to fit in some other experiences. You might check out the Royal Gorge Bridge and Park if you've gone rafting in Cañon City, or spend some time checking out downtown Idaho Springs when you raft Clear Creek. 
And if you have more than one day, why not spend the weekend enjoying the beautiful Colorado wilderness? You could go camping or glamping with your family, and spend your days exploring our beautiful state.
Step 5: Listen to Your Guide
Rafting safety starts the moment your guide gathers everyone together to talk about what to expect. You'll be given rafting tips that will help minimize risk for you and your fellow rafters. And don't forget to continue listening to your guide for the entirety of your trip—they'll be guiding you in what to do throughout the day.
What About Multi-Day Rafting Trips?
Packing for a multi-day rafting trip is quite different from packing for a short rafting day. Every season and location is different. Your rafting outfitter will send you a packing list. Pay close attention to this list—it will include both items that you should bring and those that you need to leave at home. Remember, you will be living off of a raft, and your guide will bring most of the necessary supplies with them. You must pack light.