Colorado Whitewater Rafting for the Experienced and Adventurous
Colorado boasts stretches of whitewater calm enough for tubing with the family and extreme enough for fit and adventurous thrill-seekers. At Echo Canyon, our trips are designed for all levels, from young rafters to adrenaline junkies. We're going to share with you the challenging rapids we paddle through as well as a few notorious rapids that only an experienced rafter should face.
Thrilling Rapids on Our Group Rafting Trips
Sunshine Falls and Sledgehammer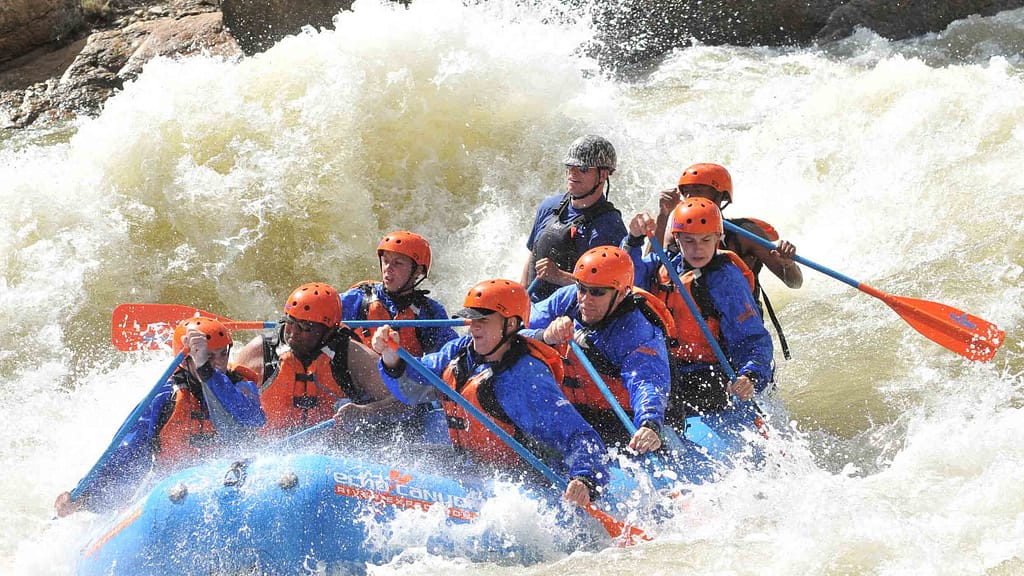 Our Royal Gorge rafting trip is our most popular trip for those searching for a thrilling challenge. With plenty of class III, class IV, and up to class V rapids, you'll find yourself paddling through foaming whitewater and plunging down exhilarating stretches. 
Sunshine Falls and Sledgehammer are the two most talked about rapids along this section of the Arkansas River. Sunshine Falls is the first rapid within the Royal Gorge with a significant elevation drop. If you're behind other rafts dropping into the rapid, it will look like they've disappeared over the horizon line of the river surface.
Sledgehammer is the second most challenging rapid here, and it hits you seemingly out of nowhere after you've finished working your way through the Grateful Dead stretch of rapids.
Only in higher water does the iconic Three Rocks rapid along Bighorn Sheep Canyon demand laser-focus. As the water rushes faster, your guide will keep you focused as you and your crewmates maneuver from one whitewater feature to the next, smiling and laughing the whole way through. This is one of the most exciting rapids suitable for most beginning rafters.
Browns Canyon is a beginner-friendly rafting trip at most water levels with a hidden thrill on full day trips. Siedel's Suckhole is a wicked class III to class IV rapid that will surprise even seasoned rafters by the speed at which the river carries your raft through the rapid, sending your stomach flipping as you paddle through this thrilling rapid. 
If your rafting group opts to avoid the challenge of Siedel's you can take-out just before the rapid at a access point known as Hecla Junction. This where most half day Browns trips end. Don't worry, you'll still get a full dose of Browns Canyon with the numerous rapids in the heart of the canyon.
Intense Rapids for Experts
Not everyone who rafts in Colorado goes with a commercial outfitter. For fit and experienced rafters, there are technically tricky and physically demanding rapids that test even the best rafter.
Note: None of these rapids should be attempted by anyone other than an experienced guide. Challenging rapids can potentially have higher risk levels and must be treated with respect.
Along the furthest upstream reaches of the Arkansas River is Pine Creek Rapid, a class IV-V rapid that's arguably the most complex rapid on the Arkansas River. Thanks to the steep terrain, punishing currents, and sharp, tight turns, it's a favorite amongst expert rafters and kayakers looking for an extreme whitewater rafting challenge.
Gore, Tunnel Falls, and Kirschbaum's Rapid
Gore Canyon along the Colorado River offers endless thrills for advanced whitewater rafting trips. For adventure rafters, Gore Canyon is one of Colorado's most rewarding sections.
Gore rapid is a legendary rapid that rocks rafts in every direction, necessitating technical padding and supreme fitness. Tunnel Falls is nature's version of a roller coaster with a ten foot waterfall you'll plunge over. As you negotiate the falls and churning whitewater, your adrenaline levels will peak. And the ¼ mile long Kirschbaum's rapid isn't one you'll soon forget either.
With jagged rocks lining the walls of this narrow stretch of Clear Creek, Rigor Mortis is one of the most challenging stretches in the US. There's little room for error, and if you have to swim, the sharp rocks are unforgiving. This narrow stretch is particularly challenging for rafters, and many choose to take-out upstream to avoid its unforgiving whitewater.
Safety Is Our Top Priority
Whitewater rafting has something to offer everyone. Whether you're going on our Family Float trip or challenging yourself at the Royal Gorge, safety is our top priority. 
Rafting in Colorado is an adrenaline sport. When we get out on the river, we are entering the wilderness where there's a new challenge every day. It is this variability that keeps our raft guides enthralled throughout the rafting season, but it's also why we take safety seriously. And safety starts with our guests being realistic about their abilities and level of physical fitness, and accepting the advice of professional outfitters. While all rafting trips have some inherent risks, when guests and outfitters work together to make good decisions we can minimize those risks. 
Give us a call and we'll help you find the best rafting trip for your fitness, age, and skill level. And when the exciting day comes, always listen to your guide. They'll constantly work to keep you safe, all while sharing local stories and leading you through exciting sections of whitewater.