When Is The Best Time To Go Whitewater Rafting?
The days are getting longer, the snow is melting and water levels on the Arkansas River are rising. Summer is here and now is the best time to go rafting in Colorado.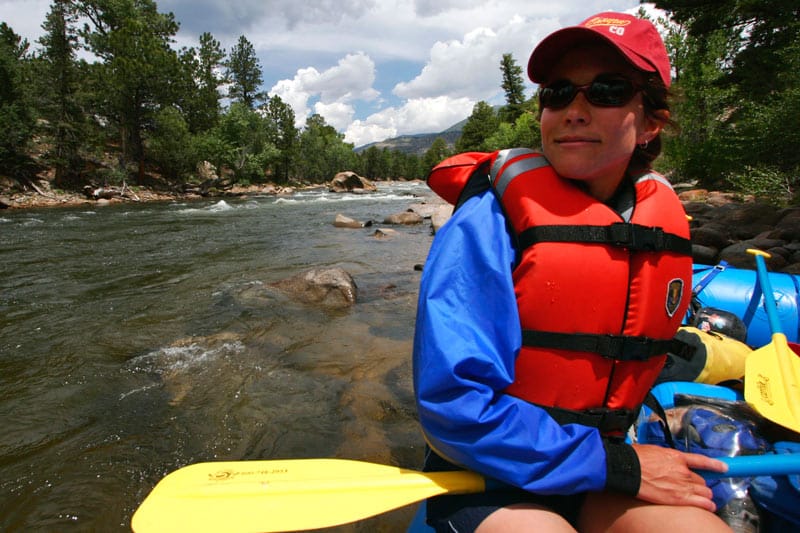 Rafting season runs unofficially from Memorial Day to Labor Day, with plenty of opportunities to enjoy the river and its fantastic whitewater during the early weeks of May and later in September.
For those who are seeking excitement on their rafting trip and are in decent physical condition, a full or morning half-day river trip down the Royal Gorge in the spring would be a great time. During this earlier time in the season, the mountain snow is melting steadily and the river is brimming, making for a fun, challenging, and memorable outing.
First-timers or a family with littles would enjoy a summertime half or full-day trip down the Bighorn Sheep Canyon. Summer is the most popular time during rafting season to enjoy the whitewater, so early reservations are recommended.
Temperatures, water levels, time of season, and other considerations when planning your expedition:
Late June through August brings moderate water flows (lower towards the end of summer) and milder whitewater, warmer air temperatures, and also the crowds — this is the busiest time of the season.
What about the best time of day to schedule a rafting trip?
Morning rafting trips can be cooler but tend to have clearer weather and the river is less crowded than in the afternoon, when it can be warm but windy.  Although this part of Colorado doesn't have a specific rainy season, mountain weather can occasionally be unpredictable and stormy.
Could a scheduled trip be postponed or canceled due to inclement weather?
Depending on the season, what type of clothing is best for rafting?
They say there's no such thing as bad weather, just unsuitable clothing, and what you wear while whitewater rafting is no exception.
What to wear on the water:
All season long plan to dress in layers, as the temperature rises significantly in the first couple of hours of the day

Choose wool in the spring and fall, or if you tend to get cold easily, and synthetic, quick-drying materials like lycra or polyester for the summertime

During the cooler spring and fall, avoid wearing cotton clothing, like a basic tee shirt, as it will make you feel colder once it's wet

On the contrary, wearing a long-sleeved cotton shirt on a hot summer day will help keep you feeling cool as well as providing a layer of sun protection

Regardless of the season, wear a hat, sunglasses, and SPF, even on cloudy days as you're still at a slight altitude (6,000 feet) and water reflects sunlight

Consider renting gear from Echo Canyon: A full wetsuit, splash jacket top, and neoprene booties are available for you to rent for your trip all throughout rafting season, and we highly recommend doing so
Find the best place to stay for every part of rafting season
From spring to fall, Echo Canyon offers a variety of lodging accommodations that are perfect for any season.
Echo's luxury cabins are truly your luxurious home away from home. Get toasty next to your own gas fireplace after an epic day of whitewater rafting, especially during the occasionally cooler months of spring and fall. During the hot summer, cool off in the fresh mountain breeze on your private patio.
Ready for a true glamping experience? Glamping tents are furnished with luxury linens, queen or single beds, and are equipped to keep you cool in the summer and warm when you need it. Each tent comes with an evaporative cooler and a private fire pit.
The coolest place to spend the night, particularly in the spring and fall, is camped out under the stars (or in a tent) next to the river you spent the day rafting on. An overnight rafting trip is the ultimate outdoor camping experience, and are most popular during the summer months.
From just a half-day trip to taking care of all your family's lodging and activities during your Colorado vacation, the friendly and knowledgeable staff at Echo can't wait to offer their expertise and help you put together the vacation of your adventure dreams, give them a call today 800-755-3246.