Why Rafting is Suitable for All Ages and Experience Levels
Whitewater rafting has the reputation of being an extreme sport. Videos of churning whitewater that keeps rafters battling from one rapid to the next can be fun to watch on YouTube. Fortunately, those aren't the waves that you'd be experiencing on a group rafting adventure with your family.
Group whitewater rafting trips are designed for all ages and experience levels. You and your family can enjoy a lazy float down the river, taking in the scenery as you lightly bounce along rippling waters. Or you can push yourselves to the max and paddle through challenging whitewater, making memories that you'll carry far into the future.
How Old Do You Have to Be to Go Rafting?
As a general rule, there are trips designed for kids ages 4 and up. However, the age limit can change from one day to the next, depending on the water levels. Each rafting trip has a different minimum age that is related to how challenging the whitewater is.
Who Can Enjoy Whitewater Rafting?
Whitewater rafting is fit for adrenaline junkies and timid beginners—it all comes down to which trip you choose. Family rafting options allow you and your family to hand-pick the trip that best suits you.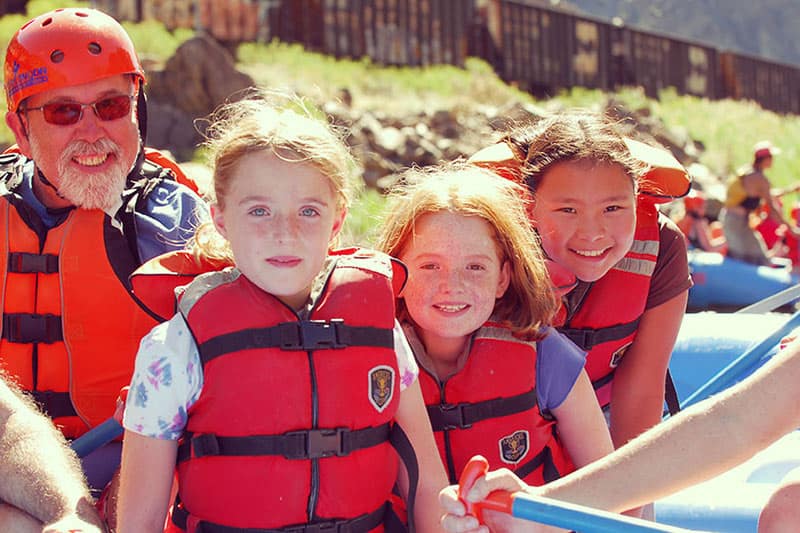 On the Arkansas River, there are calm, peaceful stretches that resemble a lazy-river experience. Kiddos as young as 4 years old—depending on the water levels—can experience what it's like to paddle down a river here. Many grandparents and great-grandparents come along on these family outings. On the gentle Family Float trip, your whole family can soak in the sun and get an easy bout of exercise for the day.
For those groups with active and adventurous youngsters age 6 or older, Bighorn Sheep Canyon delivers with class III and IV rapids. These fun rapids will get you paddling hard, working as a team, and laughing as you're splashed with water time and again. 
And of course, there are rafting expeditions fit for the thrill-seekers among us. Rafting the Royal Gorge is a physically demanding adventure sport for those 14 and older. Your guide will be shouting out orders to help your group safely maneuver challenging class V rapids. We only recommend this trip for the most adventurous beginners who are extremely comfortable in the water.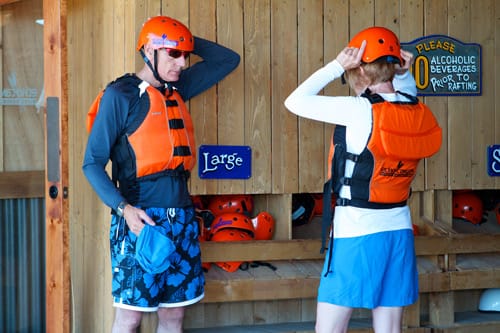 One of the primary concerns for parents is safety. We understand that safety is paramount. In the name of safety, each of our guides receives thorough training—even more than the requirement for rafting guides in Colorado. On top of training, we ensure that every piece of equipment, from the raft to the helmets, are top-of-the-line and in great condition. 
And before you and your family step foot on the raft, you will be fit with personal flotation devices and helmets and given a lesson on rafting safety. 
Our commitment to safety does two things. The first is that it lessens the risk of something going wrong in the first place. The second is that it gives us the tools we need in the case of the unforeseen. Rafting, just like driving or riding a bike, comes with some degree of risk. 
The best bet to keep you and your family safe during a whitewater rafting trip is to listen to your raft guide. They are trained to keep you safe, and they know what to do if anything goes awry.
Ready to Plan Your Family Rafting Adventure?
There is nothing quite like rafting with kids. Their enthusiasm is infectious, resulting in endless smiles and laughs. If you and your family are ready for a rafting adventure, work with your local rafting outfitter to choose the guided tour that is best for your group. Colorado rafting provides stretches of whitewater great for all levels of thrill-seeking and experience.