Whitewater Rafting in the Rain
You've been planning your whitewater rafting trip for months, and as the date grows closer, you decide to check out the weather forecast. Every day leading up to that date is beautiful, sunny weather, but not on your day – no, your day has a 100% chance of rain!
This may seem like the worst-case scenario, but let me promise you, river trips can be an even more memorable experience when it's raining! There's a sense of comradery that occurs when you and everyone is soaking wet, the rapids are even more exciting than normal thanks to higher water levels, and you and your friends are sent on a thrilling adventure down the river that you won't soon forget.
You always want to know what weather to expect when you go rafting. The conditions can change what you will wear, what you will bring with you, and what you can expect on the river.
What Happens if it Rains on My Whitewater Rafting Trip?
Worry not – rain or shine, rafting will go on! Our river guides know how to make inclement weather fun. Even a thunderstorm can be an adventure that you'll be happy you didn't miss!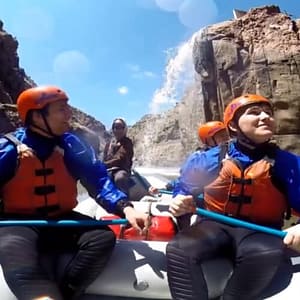 For the adventurous at heart, rain when rafting is good! Rain fills up the river, bringing with it higher water levels and more exciting rapids. Besides, what would you be doing if you weren't rafting on a rainy day? You'd likely be stuck inside, not enjoying the gorgeous scenery that rafting in Colorado would bring.
Even the scenery during rainy season or following heavy rains offers a unique spectacle that you wouldn't be able to see during the rest of the year. Waterfalls have been known to cascade off of the side of the gorge when rafting down the Royal Gorge during heavy rainfall.
But how comfortable will you be?
You'll find that the water coming from the sky is warmer than what is splashing up at you from below. With river water in the 40s throughout the summer, the rain will feel nice and warm in comparison.
Is it Safe to Raft in the Rain?
Our top priority is the safety of our guests, and our river guides are well-trained when it comes to river safety. There are always inherent risks when whitewater rafting, and this is the case with or without rain.
We take extra safety precautions when it rains, including ensuring that the water levels are safe for everyone in the group. This may mean increasing the minimum age on some trips when the rainy season is at its heaviest.
While most storms are safe to raft in, there will be a rare storm here-and-there that we'll wait out until conditions clear.
What Kind of Rain Gear Do I Need For a Rafting Trip?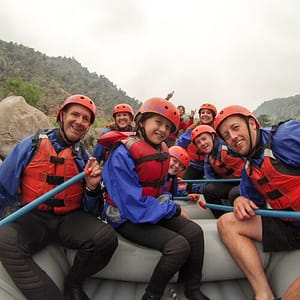 Rain can bring with it wind and cool temperatures, along with the guarantee of getting soaked head-to-toe. One way to ensure a poor time is to not be adequately prepared with rain gear that will keep you warm.
We have the most important rain gear available for rent, including wetsuits and water shoes (ours resemble short boots, keeping your feet extra warm!). Clothing that you want to make sure to bring includes:
A bathing suit/swim trunks for under your wetsuit
Dry clothing for after rafting
Wetsuit and water shoes (if you have your own)
***Avoid cotton clothing – it does not dry well and you will get soaked!***
Every guest and guide will be equipped with a life jacket to keep you buoyant in any weather.
By wearing the right rain gear, you can ensure that you will stay comfortable and have a good time on the river even in the wettest conditions.
To find out more about what to expect when you come on a rafting trip with Raft Echo, click here.
When is the Rainy Season in Colorado?
Rainy weather in Colorado is most common in July and August. Even on rainy days, it is rare to experience a day full of grey skies in this beautiful region. Memorable storm cloud formations roll in, the river fills up with water for an hour or two, and then they roll out. You're left with rainbows and sunny skies!
Do You Want to Raft During Rainy Season?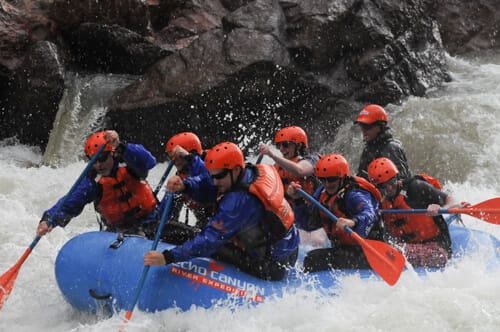 Some of the most memorable river expeditions are during rainy season, when thrill-seekers come out with the hopes of encountering even more adventurous rapids. Give us a call or send us a message if you'd like to learn more about rafting in the rain, or if you're looking to schedule your next rafting experience.