What to Wear and What Not to Wear on Your Rafting Trip
What you wear is one of the most important considerations for a first-time whitewater rafter. If you make the wrong choice, you can spend the whole day too hot or too cold, or just generally uncomfortable.
Fortunately, you're someone who does your research before setting out on a new adventure. By the end of this article, you will know the do's and don'ts of rafting gear, setting you up for a fun and comfortable day on the river.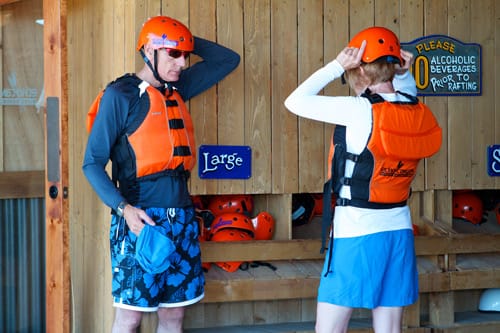 Before we go over what you want to bring, let's cover what you don't need to bring. At Echo Canyon Rafting and most rafting outfitters, there will be some items available at no extra cost and others for your convenience that cost a bit extra. Your safety gear, which includes your personal floatation device (PFD or life jacket) and helmet, are provided for everyone.
Depending on the weather, and what equipment you bring with you, you might also choose to rent a wetsuit, splash jacket (like a wind breaker but designed more for white water), and river shoes. Check with your rafting outfitter in advance to ensure that these are provided if you'll be rafting on a chilly day, but at Raft Echo, there is no need to book in advance — we have a large inventory of rentals.
Your Must-Bring Packing List for Whitewater Rafting
Part 1: What You Want to Wear While Rafting
When it comes to what you wear, there is one rule to remember: don't wear cotton! Synthetic layers are best. When cotton gets wet it stays wet for a while, clinging to your skin and drawing away body heat. It's uncomfortable and cold, no matter the air temperature.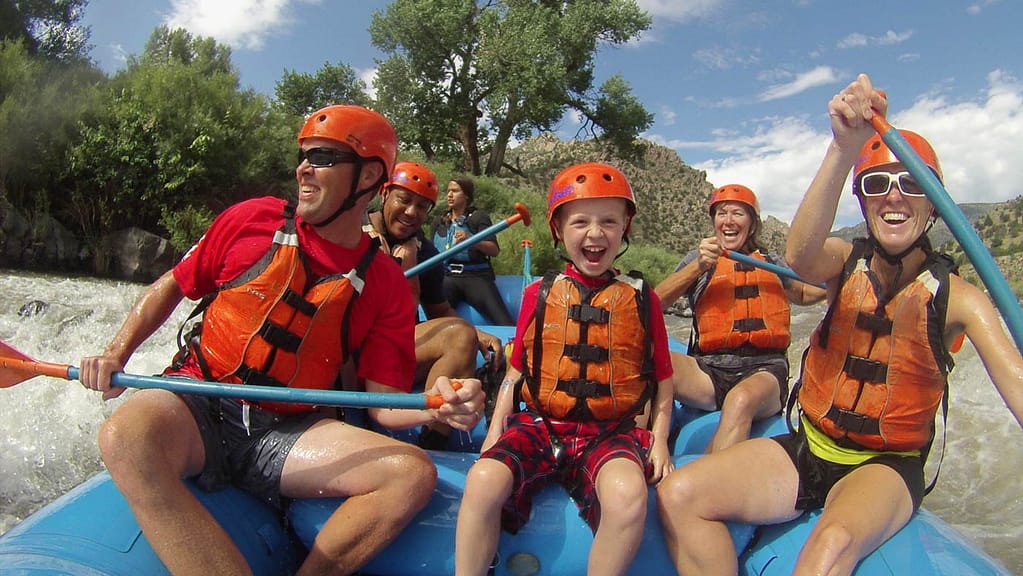 On a warm day, we recommend that you wear the following during your rafting trip:
Swimsuit or board shorts

Quick drying shorts over swimsuit for women

Short sleeve or long sleeve synthetic shirt for warm days

Long sleeve microfleece or warmer synthetic layer up top for cooler days

Secure footwear (no flip flops) like sport sandals, tennis shoes, or water shoes

**Be sure everything you wear is synthetic material like nylon, not cotton**
Keep in mind that you may want to wear long sleeves even on a warmer day to help protect yourself from the sun. This is also true for pants; if you find that you burn easily, you might want to wear thin, synthetic pants like yoga pants to provide an extra layer of protection.
When it's a bit colder, even on a day in the 70's, you should strongly consider renting wetsuits and splash jackets to help keep you warm. If you happen to have your own wetsuit or rain jacket, feel free to bring it along. Echo Canyon also has these items for rent if it makes your packing easier.
Part 2: Other Necessities and Helpful Items
Once you make sure that you're wearing the appropriate attire, you can concentrate on other things that can make your day more comfortable. In addition to the clothing that you plan to wear on the trip itself, we recommend that you also bring on your rafting trip:
Dry clothes to change into after your trip

A towel if you want to dry off before changing

A jacket to warm up after rafting on cool days

Sunglasses with a strap to keep them secure

A water bottle

Sunscreen

Snacks for before and after
You can keep all of this in your car when you're rafting and give us the keys so that they don't fall out during your trip.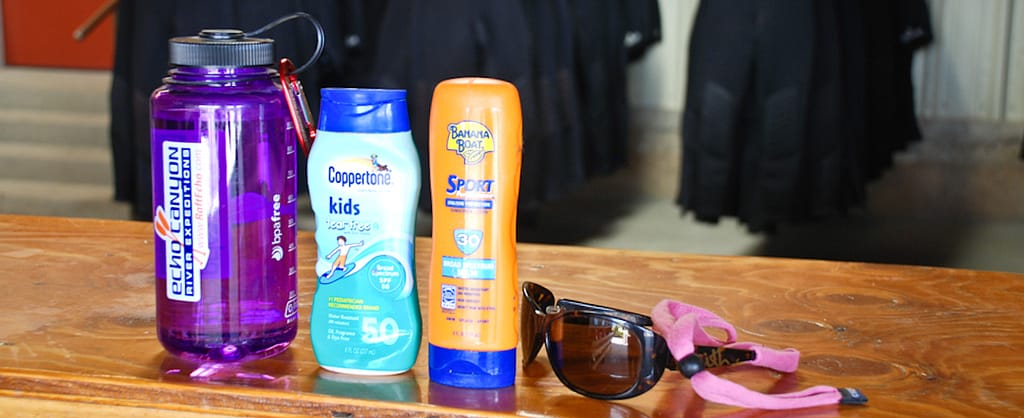 Prepare for Being Hungry After!
After a half-day or full-day of paddling down the river, you're likely to want some delicious food and cooling drinks to refuel. When you finish rafting, you can always grab a bite and a cold beer or other refreshing drink at the 8 Mile Bar and Grill located at our Raft Echo headquarters in Cañon City.
Have Additional Questions?
If you're still wondering what's appropriate to bring and what you should leave at home, give us a call! We can chat with you about the weather and what we would recommend for you wear that day in particular.
Just remember, you're going to get wet, so don't wear cotton and wear a base layer of swim clothes. And plan for a sunny day with sunscreen or long sleeve clothing as Colorado is a gloriously sunny state!