What Makes a Great White Water Rafting Guide?
While white water rafting in Colorado is an amazing experience, it demands certain skill and expertise to safely navigate rapids, waves, and eddies. When rafting on a world-class river like the Arkansas, your raft guide plays a pivotal role in ensuring safety, enhancing the enjoyment, and creating an unforgettable experience.
At Echo Canyon River Expeditions, we are lucky enough to employ some of the very best rafting guides. Based on years of experience working and training incredible rafting guides, Echo Canyon put together this article that explores the attributes that make a great white water rafting guide.
A qualified rafting guide should know the stretch of the river where they operate like the back of their hand. As such, they can guide the raft exactly where it needs to go to minimize risk – while also maximizing fun. With this experience in hand, rafting guides can also "read water" and adapt their skills to new sections of rivers as well.
A great rafting guide is a confident leader who can effectively communicate with everyone on the boat. No matter what the situation, a rafting guide should inspire trust and confidence among co-workers and guests alike. When new groups arrive, good leaders will identify the needs and abilities of participants and craft the trip accordingly.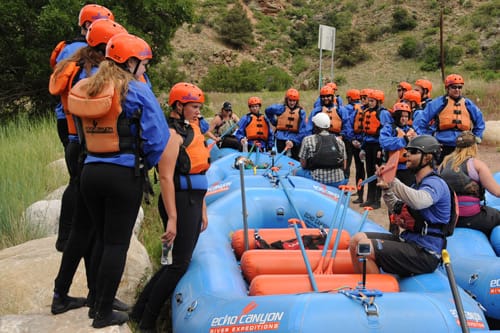 White water rafting guides should possess exceptional interpersonal skills to create a positive and enjoyable experience for guests. In fact, the ability to make customers feel comfortable and have fun can really make or break a rafting trip. This means rafting guides should enjoy sharing experiences with other people and helping maximize their experiences on the river.
Since rivers are dynamic environments and people are unpredictable, a good rafting guide should be highly adaptable. For example, they have to understand all rafting crews aren't the same, and the techniques they use to instruct one group of guests may not work for another. Similarly, adaptability is critical for dealing with changing river conditions and erratic mountain weather.
The very best Colorado white water rafting guide will prioritize safety above everything else. They meticulously assess risks, conduct thorough safety briefings, and keep careful tabs on equipment like personal flotation devices (PFDs), helmets, and supplemental rafting gear. Skilled guides should possess sound judgment and know when to navigate challenging rapids and when to avoid them altogether.
Intelligence is an extremely important skill for a Colorado rafting guide. At Echo Canyon, we encourage guides to use their heads instead of their muscles – as brute strength isn't the best means for avoiding dangerous situations. Not only do Echo Canyon guides think their way through challenges with the tools on hand, but they also know how to anticipate potential problems along the way.
The best white water rafting guides are passionate about sharing the outdoors. When a guide is a true nature lover, it inspires guests to learn and see a river as more than just a day of fun on the water. Passionate guides take great pride in educating guests on important info like flora, fauna, history, and geology. This approach makes for a truly memorable and enriching river experience.
Book Your Colorado Vacation with Echo Canyon Today!
Don't just dream about the thrill of white water rafting in Colorado, experience it firsthand! At Echo Canyon River Expeditions, our top-notch guides make each adventure a memory to treasure.
Embark on a Colorado journey unlike any other, filled with adrenaline, scenic beauty, and good times. Secure your spot on the raft today – your adventure awaits!