What are the Best Places in Colorado to Go White Water Rafting?
With diverse trip options and extremely reputable outfitters, Colorado offers some of the best white water rafting anywhere in the world. If you go rafting in Colorado, you can choose trips based on difficulty level or simply out of curiosity to see a new part of the state.
Whatever your motivation, we've compiled this brief guide on the best places for white water rafting in Colorado.
Each summer, the Arkansas River stands out above other Colorado white water rafting destinations.
A major reason that the Arkansas River is so popular is its convenient access from both Colorado Springs and Denver. In fact, you simply won't find another river with as many rafting options anywhere in Colorado that is also so close to a major airport.
The Arkansas River offers many different sections of the river that cater to a variety of rafters of different skill levels. For example, Browns Canyon is a gentle float perfect for young kids, while the Royal Gorge offers Class IV to V rapids for hardcore white water rafters.
Since the water flow rate of the Arkansas River is regulated, it offers extremely predictable and reliable water levels for the peak months of June, July, and early August. Even in low precipitation years, the Arkansas River always has enough water for rafting.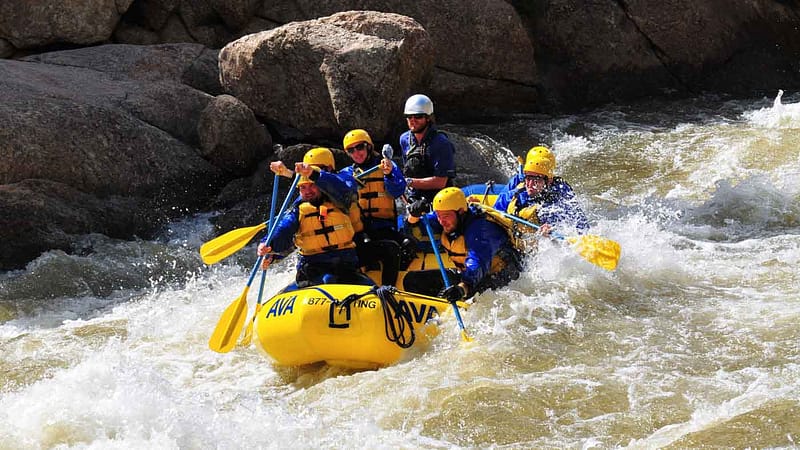 Clear Creek is a popular choice for white water rafting in Colorado due to its easy access to the northern front range of Colorado.
Nestled in the foothills west of Denver, Clear Creek provides white water rafting enthusiasts with thrilling adventures just a short drive from the city. In fact, you can easily spend the night in Denver and drive up to Idaho Springs to raft Clear Creek in a single day. Simply follow I-70 west from Denver and you can't miss it!
Because it is divided into multiple sections, Clear Creek has something for rafters of all experience levels. The upper section near Idaho Springs offers exciting Class IV-V rapids that are perfect for experienced rafters. The lower section closer to Golden features a mix of Class III-IV rapids that are suitable for beginner and intermediate rafters alike.
Please note, Clear Creek is best to raft in the month of June when water flows are still high. Flows decrease dramatically in July, and often times the river isn't high enough to raft by August.
The Dolores Rivers offers the opportunity to get off the beaten path and experience one of the more remote regions of Colorado.
Located near the iconic mountain town of Telluride, the Dolores River is in the southwest corner of Colorado. Not far from Mesa Verde National Park, this area is known as "Canyons of the Ancients" and is home to countless ancient structures and artifacts of the ancient Native American people.
The Dolores River can only be rafted during certain spring months and during years of high snowfall. Due to the limited water releases from McPhee Reservoir, the Dolores River rarely is allowed to flow at levels suitable for rafting. But when the water is flowing, this pristine river journey combines stunning red rock canyons with thrilling Class III-IV rapids, as well as some of the darkest night skies found anywhere.
The Animas River is another of the best rafting destinations in Colorado located in the southwestern corner of the state.
Flowing through the heart of the quaint mountain town of Durango, the Animas River offers a unique and memorable white water rafting experience. When you aren't on the river, the Durango, Colorado, area has some pretty incredible hiking and mountain biking.
The upper Animas section provides challenging Class IV-V rapids best suited for experienced rafters. Conversely, the lower Animas section flows through downtown Durango and offers a calmer ride with Class II-III rapids, making it suitable for families and beginners.
Book an Arkansas River Trip with Echo Canyon!
Ready to embark on an unforgettable Colorado white water rafting journey? Echo Canyon is consistently rated as one of the top rafting companies in Colorado.
Book your adventure today with Echo Canyon River Expeditions!