The Best Activities to Add to Your Family's Camping Trip
Family camping is one of the best ways to encourage your kids to disconnect from the day-to-day distractions of life and reconnect with one another. There is nothing quite like living amongst the forest with the sounds of the breeze at night and song birds sharing their stories come morning time. 
While many of us adults would be more than happy to just sit back and listen to the river rush by and the leaves rustle the trees, a bit of excitement and exploration can make the camping trip more memorable and enjoyable for kids.
Fun Camping Activities for Kids
Hiking is one of the quintessential outdoor activities for anyone camping or exploring the great outdoors. It is a fun way to see more of the local landscape, enjoying viewpoints and searching for wildlife. Plus, it helps get everyone active! 
You can either plan your hikes before you go or talk to locals to find the best hidden spots to explore with your family.
All across the Colorado mountains you will find outdoor spots great for rock climbing and bouldering. These activities aren't only fun and physically challenging, but they can be helpful for overcoming fears and learning what you are capable of. 
Find a local rock climbing outfitter that can take you and your family to beautiful rock climbing spots great for beginners to learn the ropes and experience something new and invigorating. Or, if you are already a seasoned pro, use this as an excuse to share your passion with your family.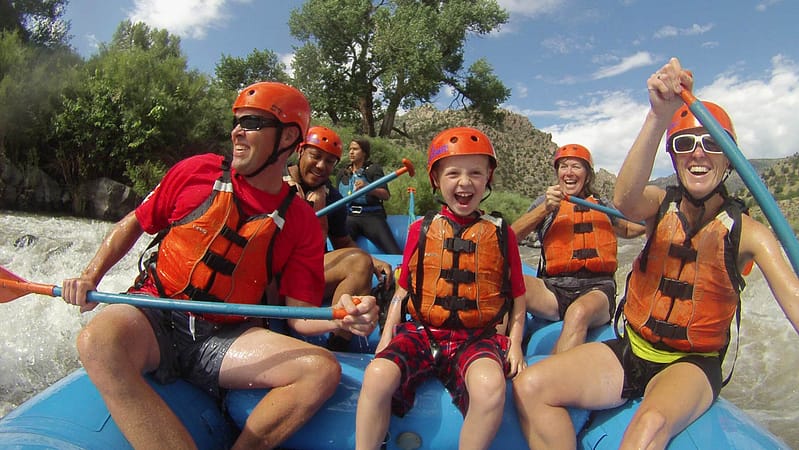 Whitewater rafting is one of the most popular adventure sports in Colorado. The great thing is that you don't need any prior experience to go on a group whitewater rafting trip. Colorado boasts stretches of river great for all levels of rafters, from timid beginners to experienced thrill-seekers and everything in between. 
Cañon City in Colorado is one of the best spots for whitewater rafting thanks to the Arkansas River that carves through the Royal Gorge. This spot boasts rapids that are fun, challenging, and typically suited for strong and adventurous beginners. There are also stretches of river that are much more relaxed for those looking for a gentler introduction.
Do you and your kids enjoy riding bikes? If so, try your hand at mountain biking. There are spots to rent mountain bikes all across the state. From there, determine what level of challenge you're looking for, and then get out and have some fun. You may just find that you enjoy the thrill so much that you and your family invest in your own mountain bikes to take out on trails regularly for years to come.
Colorado mountain towns boast more than outdoor adventure and pristine nature. Many of these towns have architectural ruins from ancient tribes or preserved mines that you can tour from the gold rush of the late 1800s. Visiting these sites instills curiosity in young minds and gives all of us a greater appreciation for the history that has taken us to where we are today.
There is nothing like jumping on a saddle atop a majestic horse as you take off on a journey exploring beautiful trails. These intelligent, gorgeous creatures have long been part of the Wild West. Even now that we have cars, it can be fun to imagine a time not-so-long ago that we would have used horses as our primary means of transportation. 
You can find stables that offer horse rides for all levels of experience through beautiful ranch lands or along wooded trails. For animal lovers, a horseback ride can be an experience that they will never forget.
Colorado is home to many reservoirs, lakes, and calm sections of river than can provide refreshing relief from the sun's rays on hot summer days. Rent tubes and go tubing down calm sections of river, try one of the many cliff jumping spots along lakes and reservoirs, or just dip your feet into alpine lakes and rivers as you explore our state's national forests. Remember to always keep safety in mind when introducing kids to water sports and wear life jackets in the river environment.
Colorado has countless fishing spots, both for catch and release and for those looking to catch their dinner for the evening. There are 322 miles of Gold Medal Fisheries covering three lakes and eleven rivers. This designation means that there are large quantities of trout, some of which measure over 14 inches! Some of the richest waters area along the Arkansas River, which snakes its way through Cañon City.
Visit a lake or reservoir, rent kayaks or canoes, and head out onto the water as a family. These boats are great for beginners—strap on a life vest and learn some boating skills! You can paddle out to little islands inaccessible by land, race each other, or try your hand at fishing.
10. Games Around the Campfire
There is no need to stop having a good time once the sun has set and you and your kids are enjoying time around the campfire. You can play any number of games while sitting around the fire. Some of our favorites include:
Duck duck goose

Scary stories

20 questions

Two truths and one lie
11. Learning Survival Skills
Survival skills are something that few of us have experience in, outside of those who were very involved in Boy Scouts or Girl Scouts. Yet, knowing how to identify plants, start a fire in the woods, use a compass, and know what to do in the case of injury or emergency are important skills for anyone who spends time exploring the great outdoors. 
You can look for a survival skills class that you can take, or look up how-to guides and do a bit of learning as a family. Maybe watch some YouTube videos on starting a fire with minimal supplies and practice at your campsite. Or purchase a plant identification guide for the area that you will be camping in and work on identifying plants as you go on a hike. 
Not only are these skills valuable and potentially life-saving, but they are challenging and a fun way to bond as a family.
There are tons of games that are fun to play at or near your campsite. Try things like horse shoes, bean bag toss, Jenga, board games, or other family favorites. If you are staying at a nice glampsite or campground, they may even have games for you, like tetherball or corn hole, so call ahead to see what's already there waiting for you.
Campfires are good for more than just warming yourself and making s'mores. You can make all sorts of campfire food! Grab a long stick or campfire skewer to roast marshmallows, hot dogs, sausages, or veggies. Use tin foil and cook up corn on the cob or baked potatoes. Or bring a grate and make hot chocolate, burgers, or other family favorites.
All you really need to do to set up your campground is to put up your tents and set up a good hangout area around the campfire. But if your family loves being creative, it can be fun to decorate your camp. Try things like battery-powered string lights lining tents or outlining tree trunks or a canopy with colorful tapestries surrounding the perimeter. Get creative and make the space your own. 
There are plenty of camping trip activities that your kids will love. Just do what you can to plan in advance to ensure that your kids don't get bored with the camping experience, but instead, learn to love both camping and the great outdoors.