How Water Levels Affect the Rafting Season
Especially in places as geographically diverse as Colorado, river conditions often change dramatically throughout the year. Since the weather in Colorado varies with the four seasons, water levels in popular rafting spots like the Arkansas River are also impacted. 
If you're planning a whitewater rafting trip, it's a good idea to do a bit of research into how water levels affect Arkansas River rafting trips. By booking a rafting adventure that is commensurate with your abilities, you will help your family have as much fun as possible on their vacation.
As Colorado rafting water levels fluctuate with factors like snowmelt and rainstorms, rafting companies look to plan their seasons around the best conditions. To help ensure a safe and fun adventure for your family, Echo Canyon put together this brief guide on how river levels affect whitewater rafting.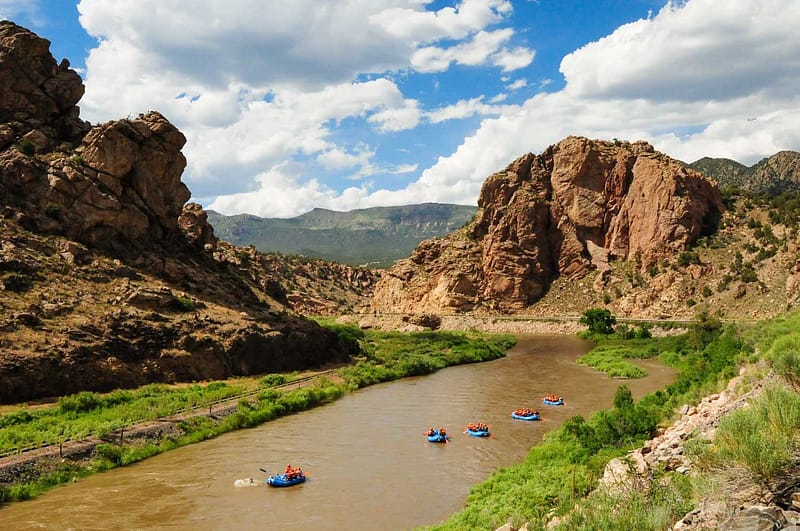 Why Do Colorado Rafting Water Levels Fluctuate?
The rivers of Colorado are born from snowmelt and rain that comes from the high peaks of the Rocky Mountains. In fact, many of the major rivers in the western United States find their source in the Colorado Rockies – including the Rio Grande, Arkansas, and Colorado.
Throughout the wintertime in Colorado, snow is deposited high in the Rocky Mountains. In turn, this snowpack represents a bulk of the water that will eventually flow into rivers like the Arkansas. When warm air arrives in the spring, this deep base of snow melts to provide water for streams, rivers, and lakes.
Colorado summers generally see a very predictable "monsoon season," when warm air from the Gulf of Mexico interacts with the cold, dry air in the mountains. When these conditions mix, they result in afternoon thunderstorms that can greatly benefit the water table in Colorado.
Since many Colorado rivers are blocked by dams, people are able to manipulate their water flows for the rafting season. One of the reasons that the Arkansas River is so popular is that you are almost guaranteed good water levels in the peak months of June and July. In fact, you can generally count on controlled rivers having medium to high flow rates of 700-2000 CFS.
Key Ways that Water Levels in Colorado Rivers Affect Rafting Trips
Since water levels in Colorado rivers can have such a large impact on river conditions, understanding them is important for safe, enjoyable, and memorable rafting experiences.
One of the most important things to note about water level is how it impacts the size of rapids. As rivers rise and swell with more water, they develop stronger currents and larger rapids. While these conditions offer more challenges, many experienced whitewater enthusiasts prefer this type of heart-pumping adventure rafting.
Water levels can also impact your ability to navigate a river successfully. To illustrate, when flow rates are low, some stretches of the river may become too shallow to float. On the other hand, if the water levels are extremely high, some rapids could become too large, fast, or difficult to navigate successfully.
Water levels also have a huge influence on the safety of rafting trips. Excessively high flow rates create powerful currents, standing waves, and submerged obstacles that could pose significant risks to both rafters and equipment. For example, it's not uncommon for a Class III rapid to become Class IV rapids in times of high water.
Do Higher Waters Mean Better Rapids?
The question of whether high water levels mean better rapids really boils down to your interests and skills. For hardcore adrenaline junkies, high flows in the spring and early summer will provide the best conditions. However, beginners and families will likely enjoy rafting in mid to late summer when water levels have dropped to medium-level conditions. 
While you can almost always count on higher water producing bigger rapids, these conditions aren't necessarily better. To illustrate, high water can make certain river features wash out, or get smoother because the features creating the waves are so far under the surface, they no longer cause waves or hydraulics. Quick-moving water also leads to faster rafting trips – resulting in less overall time to kick back and enjoy the scenery.
When is the Best Time to Go Rafting in Colorado?
Due to predictable water levels and beautiful weather, June and July are the most popular months for white water rafting in Colorado. During this time of the year, mountain streams are fueled by an abundance of melting snowpack from the previous winter. As these streams cascade downwards, they eventually make their way into popular rafting watersheds like the Arkansas River. 
The late summer months of August and September offer relatively mellow rafting conditions. At this time, the snowpack has melted and dwindled in most major mountain ranges in Colorado. While the late summer months not be a very exciting time for thrill seekers, it's an excellent time for families to experience the Arkansas River. In places like the Royal Gorge, August and September provide offer quieter waters and smaller crowds.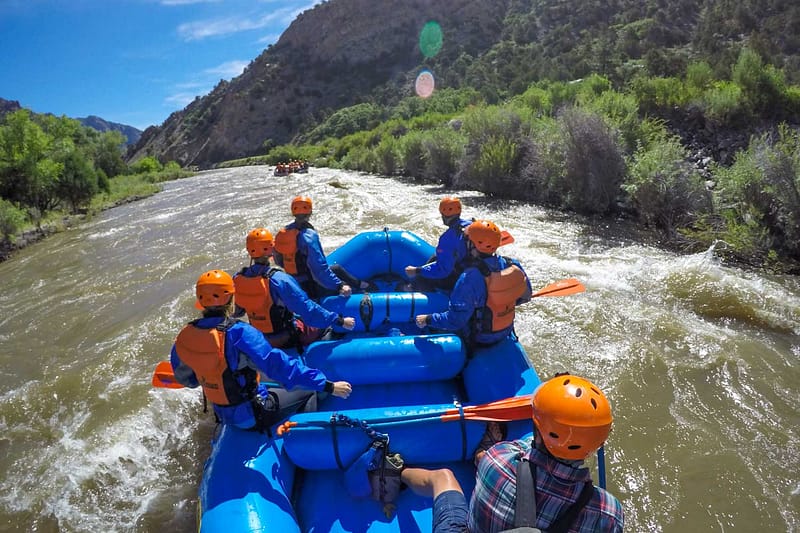 Plan Your Next Rafting Adventure Today!
Whether you are a newbie or an experienced raft guide, staying informed about Colorado rafting water levels before heading out on a trip is important. By learning about the ebb and flow of nature's rhythms, you can plan your next Colorado rafting adventure at the perfect time. 
Please Contact Us to learn more about river water levels for your rafting trip!