How River Water Levels Will Affect Your White Water Rafting Trip in Colorado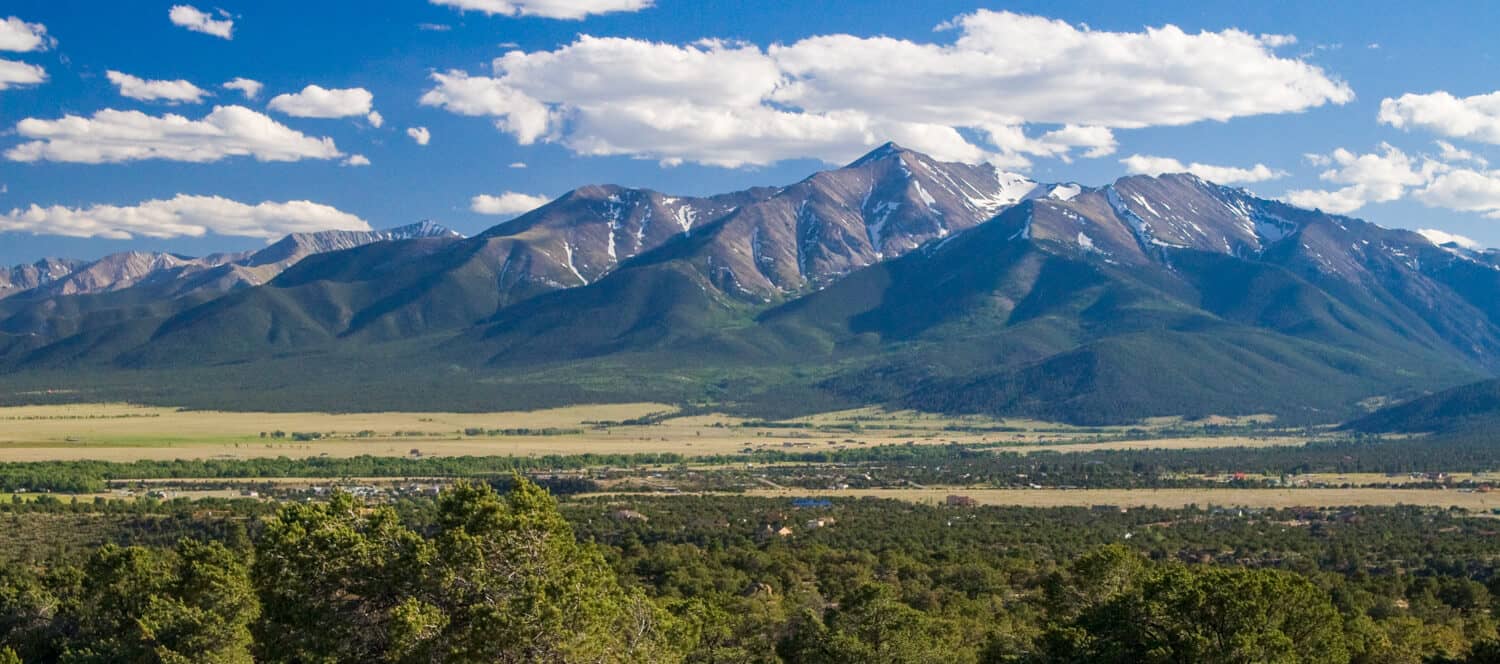 Whether found in mountains, valleys, or plains, river environments are extremely dynamic. The water which flows through river basins is influenced by an array of factors within a given region. To this end, such things as water level, clarity, and flow rate vary with environmental influences such as rain, snowmelt, and temperature. 
Water levels in Colorado rivers change with the 4 seasons. As such, the same stretch of water on the Arkansas River will look quite different in early spring than it does in early fall. As water stages fluctuate in with such influences as snowmelt and rainstorms, rafting companies plan their seasons around the best conditions. 
If you're planning a whitewater rafting trip in Colorado, it's a good idea to do a bit of research to ensure that conditions are commensurate with your skill-set and expectations. In doing so, you will also ensure that your family has the most fun possible on their vacation. 
To help you plan your next Colorado trip, Echo Canyon River Expeditions put together this brief guide on how river levels affect whitewater rafting.
Why do Water Levels in Colorado Rivers Fluctuate?
Colorado rivers are intimately bound to the mountain environments from which they are sourced. If you were to look at a map of the western United States, you would see major rivers – such as the Colorado and Rio Grande – finding their headwaters high in the Colorado Rockies. These rivers, like the Arkansas River, are sourced by snowmelt in the mountains.
For those unfamiliar with mountains, it might be hard to comprehend how the snow that fell in December could impact river levels 6 months later in June. However, this is precisely the case concerning how snowmelt affects rivers in Colorado. During wintertime, the snow depth in high elevations continuously builds with each passing storm. When springtime arrives, this deep base of snow melts to provide water for streams, rivers, and low-lying communities throughout the summer months.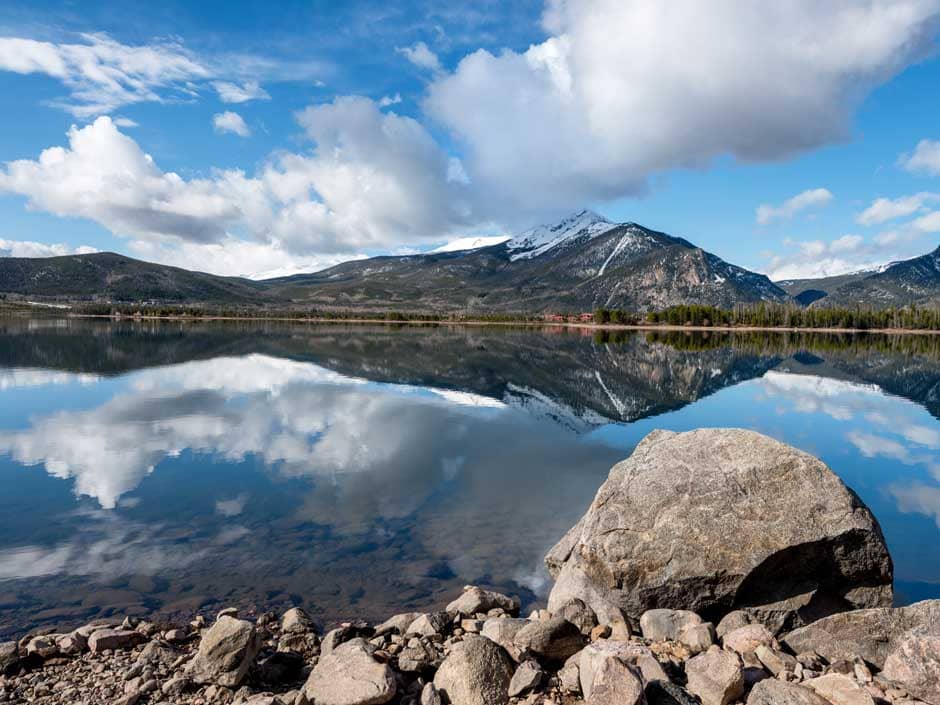 Because there are dams on many rivers in Colorado, people are able to manipulate their water flows. Especially on popular rafting rivers like the Arkansas River, dams give people the ability to set flow rates in accordance with the best rafting conditions. If you are planning a trip to Colorado, it's a good idea to research the water level of the Arkansas River. With this knowledge in hand, you can likely plan a more predictable rafting trip for your family. Please bear in mind, the most popluar CFS (cubic feet per second) for rafting is 700 – 2500 CFS, which represents medium to high river flows.
How will Different Water Levels Affect My Rafting Trip this Year?
To grasp how water levels will affect your Colorado rafting trip in 2021, you will need to understand the weather patterns from the previous year.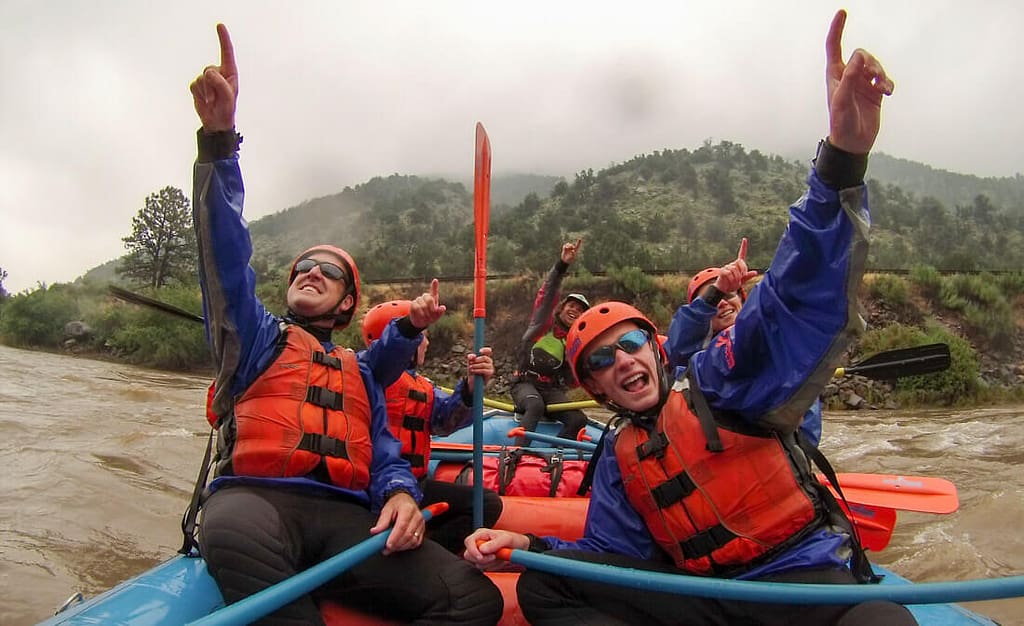 Generally, Colorado summers see a very predictable "monsoon season," when warm air from the Gulf of Mexico interacts with the cold, dry air in the Colorado Rockies. With this perfect mix of conditions, you can almost set your watch to afternoon thunderstorm activity in July and early August. Oddly, 2020 saw almost no monsoon activity, which pushed the state into drought conditions. The dryness in Colorado was evident in the extreme wildfire activity that tore across the state in the summer and fall of 2020. 
Snowpack for winter 2020-2021 started off slowly but picked up steam in the later months of February and March. A wet spring greatly added to the available snowpack and overall water found in the mountains. Yet, things warmed up extremely fast in Colorado in May and June 2021, so the snow is melting quite quickly.
In the month of June, rivers were running fairly high with snowmelt and spring rains. However, in most regions of Colorado, the snowpack will not last long into summer, so outfitters will rely on rains and that monsoon moisture to bump up the river volumes. As such, for most people, the best rafting conditions for Colorado Rivers will be in June and July 2021. In August we can expect to see declining river flows and lower water conditions which is quite typical in the Arkansas River Valley.
Do Higher Waters Mean Better Rapids?
There are a lot of factors that contribute to whether or not higher waters mean better rapids. As river environments are highly dynamic, features like rapids and waterfalls are greatly accentuated with rising waters. Nonetheless, for some people, the choice between high water rapids and lower conditions simply boils down to preference. 
Many rapids grow larger with increased water flows. As rivers rise and swell with more water, they also develop stronger currents, as well as hold colder water. All things considered, rivers with high water make for more challenging rafting conditions. Yet, many experienced whitewater enthusiasts prefer such hardcore conditions. 
While you can almost always count on higher water producing bigger rapids, the conditions aren't always better for rafting. To illustrate, high water can make certain river features wash out, or get smoother because the features creating the waves are so far under the surface, they no longer cause waves or hydraulics. This also translates to faster rafting trips and less time to enjoy the scenery. Even more, cold water, early season conditions requires additional gear like wetsuits, which can be a huge inconvenience for some.
When is the Best Time to Go Rafting in Colorado?
The best time to go rafting in Colorado will depend largely on your interests and skill level. For hardcore adrenaline junkies, spring and early summer will have the best conditions. However, beginners and families will likely enjoy rafting in mid to late summer when water levels have dropped to medium level conditions. 
June and July are by far the most popular months for rafting in the state of Colorado. In these early summer months, mountain streams are running stronger with melting snowpack from the previous winter. In turn, these streams feed major watersheds like that of the Arkansas River. Therefore, the months of June and early July are your best bet for higher water flows and larger rapids on most rivers in Colorado. 
As summertime progresses into the months of late July, August and September, mountain snowpack is dwindling in most regions of Colorado. With mountain snows melted, streams and rivers recede to lower levels – resulting in mellower rafting conditions. While late summer might not be a very exciting time to raft for adrenaline junkies, it's great for families with older children in their teens. Especially in places like the Royal Gorge, August and September provide quiet waters and smaller crowds. If you're curious, just do a bit of research about the Royal Gorge water flow.
Contact Echo Canyon Today!
Echo Canyon Expeditions is one of the leading whitewater rafting outfits in Colorado. Please Contact Us to learn more about river water levels for your next vacation.