How to Experience the Outdoors Without Straying Too Far from the Mile High City
Denver, Colorado has a reputation for being a city fit for outdoor enthusiasts, and for good reason. There are countless day trips that you can take from the Mile High City that get you out in nature enjoying the best that the state has to offer. 
Whether you're a local looking for a quick retreat from the city or someone who is visiting and staying in the state's capital, it can be fun to explore Colorado's great outdoors. We've put together a list of some of the top outdoor adventures that are just a short drive away. 
The Best Ways to Experience the Great Outdoors Close to Denver
1. Drive Up Mount Evans Scenic Byway
Only 60 miles west of Denver is Mount Evans Scenic Byway, the highest paved road in North America. During summer, you can drive this gorgeous stretch of road that twists and turns as it climbs over 7,000 feet in elevation. You will be met with panoramic views that are particularly spectacular at sunrise and sunset. 
As you reach the top of Mount Evans, keep a lookout for mountain goats which can often be spotted hopping their way up the rocks and around alpine lakes. You may also spot little furry animals like marmots and pikas, making this drive a memorable trip for animal lovers and nature lovers alike.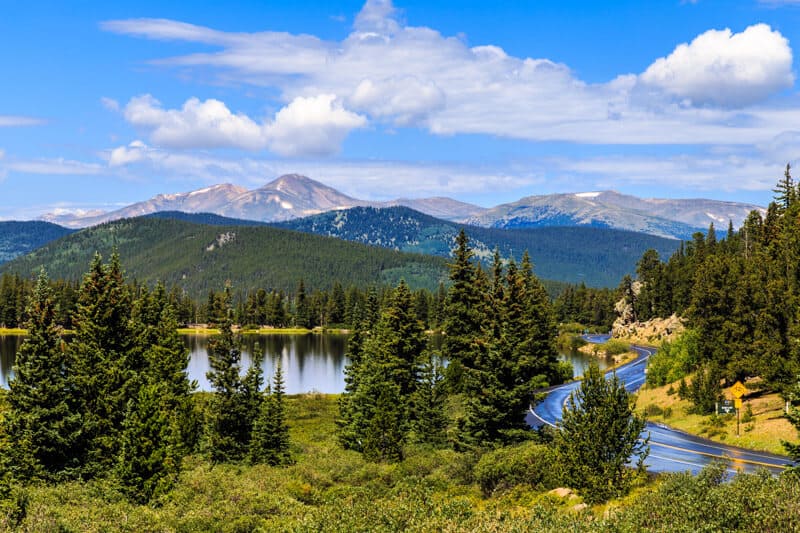 2. Go White Water Rafting on Clear Creek
White water rafting is one of the quintessential thrills found within the rugged Rocky Mountains. For those who want to experience rafting near Denver, Clear Creek in Idaho Springs offers a fun trip for new rafters that is just 45 minutes from Denver. This stretch of whitewater is great for adventurous beginners with one thrilling rapid after the next. But don't expect anything too crazy; this rafting trip is suitable for most kids over 6.  
And if you are someone who wants something a bit more challenging, drive just a couple of hours from Denver and test your abilities with a Royal Gorge Rafting Trip. Rafting down this 1,000 foot canyon is exhilarating, challenging, and incredibly beautiful.
3. Visit Red Rocks Amphitheatre
Red Rocks Amphitheatre is one of the most well-known spots in our beautiful state. With some of the most talented musical acts of all-time making their way through this venue, people who get to experience their favorite can hold onto that memory for many years to come. There is nothing quite like the acoustics offered by the rugged red rocks that cradle the theatre, nor the view as the sun sets behind the red rocks as you look out over the front range. 
And music isn't all that Red Rocks has to offer. Come during the day to hike around Red Rocks or run up and down the stairs if you're up for a physical challenge. There are events like Film on the Rocks and Yoga on the Rocks for those who want a different experience in this unforgettable venue that is just 20 minutes from Downtown Denver.
For animal lovers, few things will beat a horseback ride through vast grasslands or beautiful forests. Not far from the Denver area are multiple spots where you can take a daytrip and spend some time with these majestic creatures. You can find guided horseback riding tours through gold mines, grave sites, national forests, and more. There are even stables that will rent horses and gear for the day to experienced riders looking to explore Colorado's trails on their own.
5. Hit Mountain Biking Trails
There is no shortage of top-notch mountain biking trails within a short drive from Denver. You can find easy trails great for beginners or highly technical trails that require experience and a love for adrenaline sports. Singletracks has compiled a list of some of the best mountain biking trails near Denver, including some that offer great views, others that are not highly trafficked, and some that are located in the Denver area for those that want a quick adventure close by.
Even if you aren't an avid mountain biker, you can enjoy a ride down Pikes Peak, one of Colorado's most well-known 14ers (mountains that reach higher than 14,000 feet in elevation). Don't have your own gear? Pikes Peak Mountain Bike Tours will lead you on a 3-hour downhill-only biking trip down Pikes Peak, which offers panoramic views and exhilarating fun.
7. Rock Climb or Boulder in Boulder, Colorado
Boulder, Colorado is well known as one of the outdoor meccas in Colorado. This city sits nestled along the Rocky Mountain foothills, providing a landscape rich for outdoor thrills. One of the most popular outdoor activities in Boulder is rock climbing and bouldering.
Both beginning and experienced climbers can find rock formations that they can enjoy in and around Boulder. One of the most popular sites for bouldering are the flatirons that you can find jutting out along the landscape. Keep in mind that the flatirons are not open year round thanks to conservation efforts that protect nesting raptors in the area. 
As for climbing, Eldorado Springs contains hundreds of routes that are popular amongst adventurous climbers. Try to arrive early to beat the crowds! And if you are new to climbing, there are many outfitters that can take you on your first climbing trip outdoors or rock climbing gyms where you can try your hand in a more controlled environment.
When water levels are right you can find families and friends grabbing tubes and floating along rivers just a short drive from Denver. One of the favorites for locals is tubing South Platte River starting in Littleton, a suburb southwest of Denver. Along the river you will find places to grab food and beer, allowing you to make a full day of your river float. 
Another good tubing location for beer lovers 21 and over is Clear Creek in Golden. Along this tubing route is the Coors Brewery, which brews not only Coors Original and Coors Light, but also Blue Moon, Crispin' Cider, Colorado Native Beers, and many more. If you opt to take a tour, for $5 (locals) or $10 (visitors), those 21 and over can end their tour with three 8 ounce samples.
If you are visiting Denver during the winter, the slopes to the west are the ultimate nature-lovers destination for skiing and snowboarding. Some of the best ski resorts in the world are located within a few hours of Denver. 
Within less than a two hour's drive from Denver you will find Echo Mountain, Loveland Ski Resort, Eldora Mountain, Arapahoe Basin, Winter Park, and Keystone Ski Resort. Or, if you are willing to drive a bit further, you can try out the world-renowned Aspen or Vail. 
Traffic from Denver to the mountains and back can be rough on the weekends, so try to hit the slopes on the weekdays if you are visiting and your schedule is flexible. For those who must go on the weekends, leave bright and early to avoid the worst traffic.
You won't need to drive far from Denver to find great hiking trails. You can find  tens of hikes within 30 minute's driving distance from Denver. These include places like Red Rocks, Castle Rock Trail, Clear Creek Trail in Golden, Elk Meadow Park, and more. Within this short drive from Denver are trails amongst gorgeous rock formations, grasslands, aspen and pine forests, rivers, lakes, and more. 
And if you have more time, there are nearly endless hiking opportunities within a couple of hours from Denver. These include breathtaking waterfall hikes, the Manitou Incline, glaciers, and more. These hikes offer amazing views and some trails that are not heavily trafficked. Hiking is truly one of the best ways to enjoy the boundless nature within a short drive of Colorado's capital. 
In the late 1800s, thousands of people traveled to the mountains just west of Denver in the hopes of striking gold. This gold rush is an important part of Colorado history, and many of the mines have been preserved to allow people to glimpse what mining life was like less than 150 years ago. 
In Idaho Springs, a quaint mountain town 45 minutes west of Denver, you can visit old gold mines and museums to learn more about this part of Colorado's history. After you've finished, walk along the historic downtown district on Miner Street to enjoy local restaurants, breweries, and shops.
12. Visit the Denver Botanic Gardens
Not every outdoor experience needs to provide heart-pounding adrenaline or a drive outside of Denver's city limits. The Denver Botanic Gardens are a lovely spot to soak in the sun and explore the diverse plants that grow in Colorado. Not only can you stroll through beautifully manicured gardens, but you can enjoy one of their many events or art exhibits throughout the year. 
There are even events during the colder months, allowing you to get out and enjoy the gardens when it's chilly. During winter time you can sip hot cocoa as you take in twinkling lights during the Blossoms of Light event.
13. Zipline Over the Trees
Ziplining is a great adventure activity for the whole family. Imagine soaring over pine trees, lakes, and rivers, experiencing a bird's eye view of some of the most beautiful areas near Denver. You can find courses not far from the city, or you can drive a couple of hours away to the Royal Gorge Bridge & Park to experience the highest zipline in North America. At over 1,200 feet above the ground, you can take in the panoramic views of the Arkansas River and Royal Gorge as you feel the rush of wind through your hair.
Along the front range you will find many lakes and reservoirs that provide a playground year-round. These spots located throughout Denver and the surrounding cities are a lovely way to enjoy beautiful weather or get out in the cold without having to travel far from the city. 
Try renting paddle boats at your local reservoir or ice skating at Evergreen lake during the coldest parts of winter. When the weather is good these spots can be fun for a short weekend camping trip, allowing you and your loved ones to roast marshmallows over a campfire and lay back and enjoy the stars.
Colorado is home to seemingly endless outdoor recreation year-round, much of it not far from Denver. You can enjoy outdoor adventures near the city by going tubing, trying out local reservoirs, or hitting the Botanic Gardens. Or you can head out for a day trip and explore more of what the mountains have to offer.