How to Choose a PFD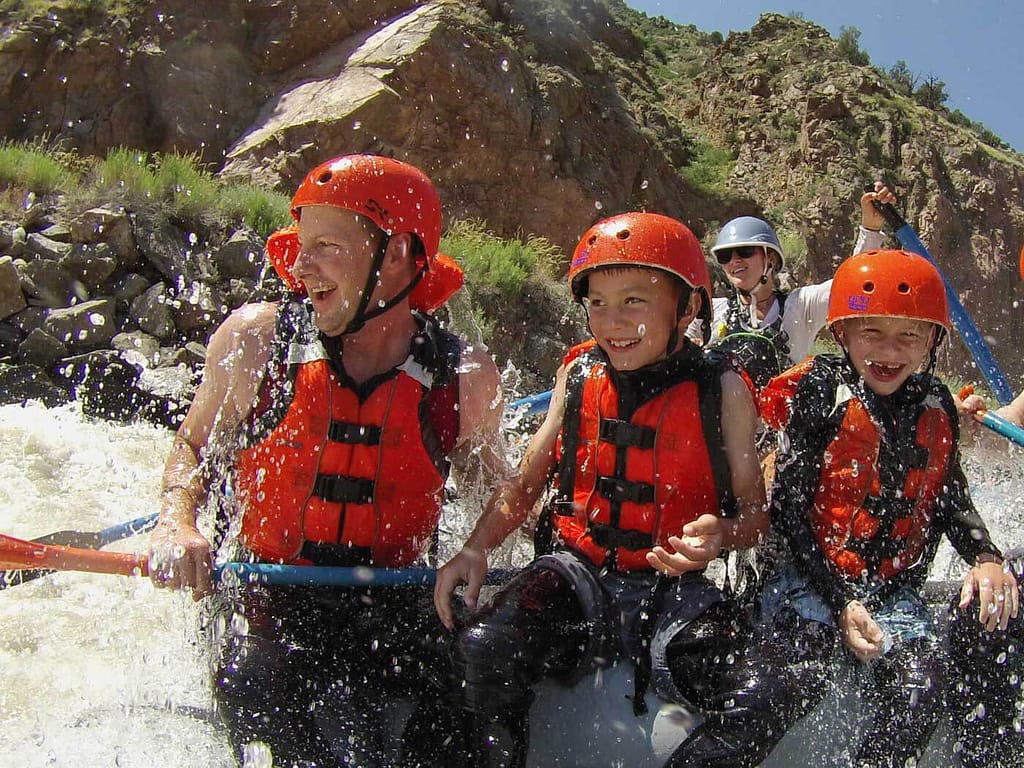 Personal flotation devices, or PFDs, are an essential piece of safety equipment for outdoor water sports. PFDs are a must-have when you spend time recreational boating on a river or pristine alpine lake. 
Selecting the best type of PFD for each specific water sport is key, as is ensuring the size is correct for the user. In this article, we'll go over the different types of PFDs and how to choose the best one for your next outdoor adventure. 
What Types of PFDs Are There?
There are lots of ways to have fun on the water. Whether you're kayaking, white water rafting, paddle boarding, jet skiing, or sailing, selecting the right PFD is essential for safety. There are five types of US Coast Guard-approved PFDs:
Type 1 PFDs—Offshore Life Jackets:

This type of PFD encompasses foam or inflatable life jackets that work for all types of water. Type 1 life jackets are ideal in remote locations far from potential rescue. 

Type II PFDs—Near-shore Vests:

This type of vest is built for areas where a fast rescue is likely. For instance, when you're jet skiing or paddle boarding at a popular reservoir, lake, or beach. There are foam and inflatable type II vests. 

Type III PFDs—Floatation Aids:

Type III floatation devices are some of the most comfortable. They're popular for adventurers who will be on the water for long stretches and in areas where rescue would be prompt. Many of the raft guides at Echo Rafting wear type III PFDs. 

Type IV PFDs—Throwable Devices:

Throwable devices aren't worn like the other types of PFDs. Type IV PFDs are designed to be thrown to someone who needs rescuing. Ring buoys and cushions are two popular types of PFDs.

Type V PFDs—Special-use Devices: The best PFD for rafting and other water sports is one that's designed for that purpose. Type V PFDs are created for specific activities. Commercial rafting guests are nearly always provided with a type V PFD, and some raft guides use them too. For raft guides, this type of floatation device is preferred for special purposes, such as rescue. 
Choosing the Right PFD for River Rafting
When you head out on a group whitewater rafting trip, the outfitter will have PFDs for you.  Commercial rafters typically wear rafting-specific type V PFDs. These safety jackets are designed for optimal safety and comfort for a day spent river rafting. 
Some outfitters have different PFDs depending on what trip they're taking you on. For instance, if you're going adventure rafting in Colorado, you may need a life jacket that offers greater buoyancy. It's safety, not comfort, that's paramount—although most life vests are pretty comfortable. 
Conversely, you may not need a heavy-duty jacket on a flat water family rafting trip. When you're floating down calm stretches of river, there's not as much concern about going overboard – although you always should be prepared for just that situation. If something were to happen, it's much easier to get a rafter back into the raft safely in calm water than in churning waves.  
Here at Echo Canyon, our PFDs achieve both safety and comfort. We understand that no one wants to spend a day feeling weighed down or going home with chafing. As such, we provide our staff and customers with top-of-the-line safety equipment. 
PFDs for boating activities aren't one-size-fits all. When choosing the right size, you want a life vest that's secure while permitting freedom of movement. 
To find the right vest, you must first select the right age group. There are child and infant vests, youth sizes, and adult life vests. There are then different sizes of adult life jackets designed for various body shapes and sizes. 
When you're going rafting with a commercial outfitter, the guides help you select a vest that fits. As a general rule, choose a life jacket size based on your chest size, not how much you weigh. The best PFD:
Is comfortably snug around your torso

Doesn't ride up too far when you raise your arms overhead

Stays put if someone gently tugs the shoulder straps upwards

Permits comfortable, unrestricted movement
There are various straps that you must adjust to find the best fit. To do this, loosen all of the straps before putting the vest on. Once on, tighten straps starting at the bottom and working your way up. Ensure that the feel is comfortable and secure. 
Any time that you aren't feeling confident with your vest or other safety equipment, talk to your raft guide right away. They'll know what to do to maximize the comfort of your PFD. 
Looking to Buy Your Own PFD?
For outdoor enthusiasts who want to purchase their own PFD, it's best to head to a physical outdoor retailer. While you can find great products online, it's hard to say which life jacket you'll find the most comfortable without trying it on first. 
If you need to try some on to find the right fit, then consider visiting an REI store. They have locations across the United States, and they only carry high-quality merchandise. Plus, their associates are well-educated and can help you find exactly what it is that you need. 
If you have an idea of which PFD to purchase, check out Northwest River Supplies – their quality is excellent and their customer service is second to none.