History of Clear Creek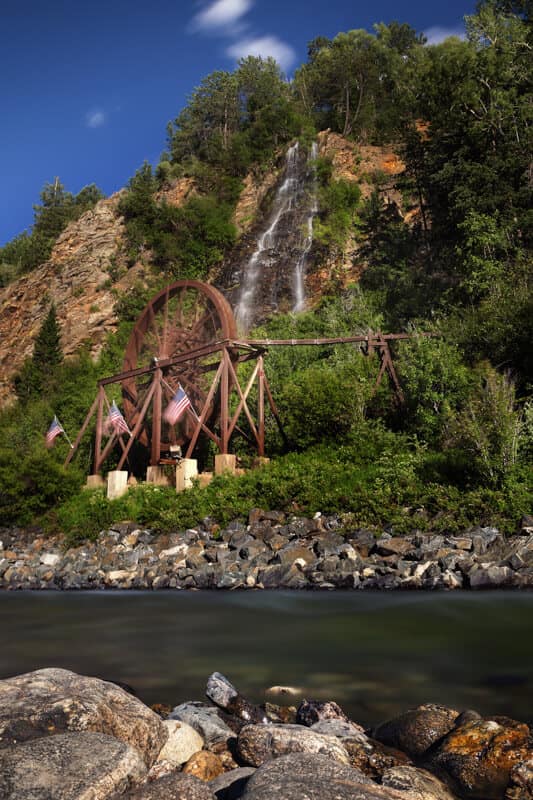 Clear Creek begins its journey high up in the Rocky Mountains. It starts at the Continental Divide at Loveland Pass, where the elevation is over two miles above sea level. 
The creek makes its way down to Clear Creek Canyon just west of Golden, a beautiful wilderness area popular for its outdoor recreation. Rafters, climbers, bikers, and hikers are just some of the adventure lovers that frequent this exciting location when the weather is good. 
Clear Creek has played a role in the history of Colorado for many years, from the beginning of its geology to the gold rush and beyond.
How Was Clear Creek Canyon Formed?
The geology of Clear Creek Canyon began many millions of years ago. Around 40 million years ago, Clear Creek's waters were flowing in much the same place as they are flowing today. There were noticeable differences, however, in the landscape. Instead of the mountainous terrain that it cuts through today, the landscape then was much gentler. 
In the last 10 million years, tectonic plate movements resulted in elevation gain that led to an increased gradient and deepening of the Clear Creek gorge. Clear Creek has already made a 1,000 foot gorge in these hard, beautiful rocks, and it continues to deepen to this day. 
The geology quickly changes at the Golden fault just west of Golden. The rock composition changes and the elevation levels out just a bit, resulting at the end of the canyon and the beginning of the Golden Valley.
Early Human History Along Clear Creek
Long before Europeans took over the land, Native Americans lived along Clear Creek. Prehistoric sites have been recorded, as well as the inhabitation of this area by the Ute and Arapaho tribes.
This freshwater was valuable as a source of drinking water, food, and navigation. The Ute and Arapaho people would travel along the creek as it was a prime hunting ground for deer, elk, and buffalo.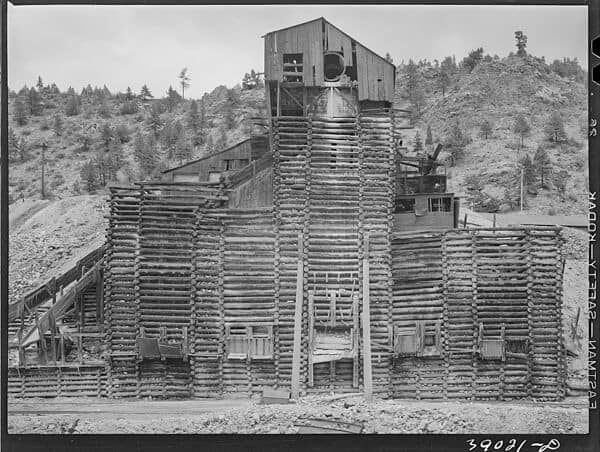 Much of the Clear Creek history that people talk about has to do with the gold rush. In the early 1800s, European settlers found Clear Creek Canyon to be much too difficult to transverse, discouraging transportation. It wasn't until 1859 when people discovered flakes of gold in it that Europeans decided to rough it and flock to the land in the hopes of getting rich. 
As miners and their families settled in areas rich in natural resources, mining towns began to develop. These included Idaho Springs, one of the closest mountain towns to Denver, and Georgetown. Silver Plume was another town that sprang up around this time, named after the lucrative silver mines found within. These towns, along with Dumont and Empire, all joined together to create Clear Creek County. 
During this time, transportation systems were set up to allow miners access to the rich natural resources that they so craved. Toll roads were created along the same path that Native Americans had followed for many years, including the Mt. Vernon Canyon route to the south and the Golden Gate Canyon route to the north. 
It was during this time that the first train was built through this region of the state. Colorado Central Railroad was constructed just above the creek, with one line going up towards Central City and Black Hawk and another through Idaho Springs and Georgetown.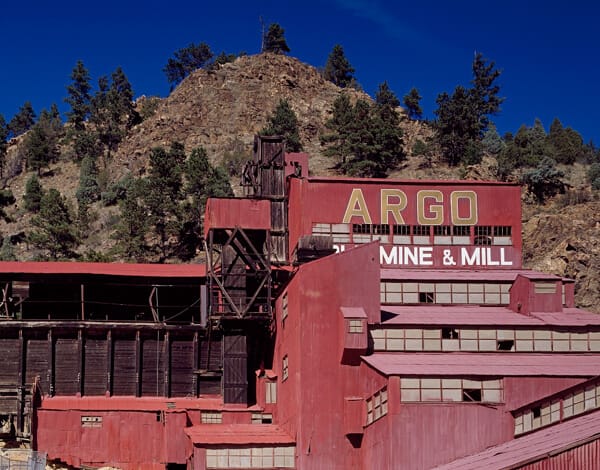 This gold rush transportation network paved the way for tourists as the mountains became more accessible. People from all over the world came to experience the snow-peaked mountains and crisp air for themselves. 
The railroads catered to tourists with trains that delivered passengers to hiking trails, one of which had a dance pavilion built above it to entertain railroad tourists. 
But it was miners that were the primary inhabitants of the area for many years. In the late 1800s, the population peaked at 7,800 but rapidly dropped as mining became less profitable. By the 1930s the population was just 2,100. Shortly thereafter, mining took a backseat to tourism, permanently.
As mining fizzled away and the Great Depression hit, Clear Creek County turned from a bustling mining town into a sparsely populated wilderness once again. Due to a lack of profits, the railroads closed down in 1941. 
Fortunately, around this same time, US Highway 6 began construction, allowing people to access this precious stretch of mountains by automobile when it opened in 1952. With numerous tunnels and the rerouting of State Highway 119 to intersect with US Highway 6, it became a reliable way to make it out to this section of the state. 
During World War II, mining became an important revenue generator once again. Molybdenum reserves were mined for the production of steel necessary for the United State's involvement in the war. 
The post-war economy further spurred growth in this area, particularly around tourism. Skiing became popular in Loveland Ski Area and Berthoud Pass, and cultural tourism too began to take shape. People enjoyed visiting the historic structures that lined the gold rush region of Colorado's mountains.
Clear Creek and Clear Creek Canyon remain some of the most precious wilderness within a short drive from Denver. This abundance of nature still accessible today didn't happen by chance. We are still able to enjoy these areas thanks to the hard conservation efforts of many around the region for the past few decades. 
Clear Creek County houses much of the Clear Creek wilderness area, where 1,900 acres of land are currently being protected by the Clear Creek Land Conservancy. The area where Clear Creek Canyon flows out of Clear Creek County and to Golden is largely protected by Jefferson County Open Space who has preserved hundreds of acres of land. 
Thanks to these efforts, local residents and visitors have the privilege of enjoying the nature and outdoor recreation offered by this lush wilderness not far from the busy Denver Metro area.
The Clear Creek region is now home to outdoor recreation that people travel far and wide to enjoy. Some of the most popular attractions here include:
Clear Creek is the 2nd most popular river in Colorado for white water rafting trips. Clear Creek rafting is good for all levels with relaxing stretches of whitewater broken up with fun rapids great for beginning rafters. 
One of the biggest pulls of this stretch of river is its vicinity to Denver. You leave right from Idaho Springs, which is just 45 minutes west of Denver! To have such a fun and beautiful section of whitewater this close to the city is great for those who love adventurous day trips.
One of the quintessential Colorado outdoor activities is hiking a 14er, which is a peak that reaches over 14,000 feet in elevation. Clear Creek County houses one of the best 14ers for beginners: Mt. Bierstadt. At 14,060' and an easy drive from Denver, you can hike this 14er with your friends or family in just one day. 
For those who would like the view without the hike, you can drive up Mount Evans along the highest paved road in the United States. At 14,264', the view is incredible.
Do you want to take a trip to the past? Try riding the historic Georgetown Loop Railroad where you can enjoy pristine wilderness and see the old gold and silver mines that line the route. This is a great way to envision what life would have been like less than 150 years ago.
Clear Creek is a beautiful, historically-rich region in the Rocky Mountains. From Native Americans to miners and tourists, Clear Creek has provided humans with what we want and need for many thousands of years. Today, most visitors take advantage of this vast stretch of wilderness for a variety of outdoor adventures.