Hidden Gems: Scenic Views and Wildlife Encounters While Rafting in Colorado
There are many reasons why people like scenic white water rafting in Colorado. While some groups want the biggest rapids and adrenaline-pumping action, others prefer to use rafting as a way to experience the natural beauty of the state. 
If you are interested in exploring the natural splendor of the Rocky Mountains by way of a tranquil river, you are in luck! These hidden gems in Colorado have a whole range of beautiful rivers that are perfect for taking in mountain scenery and viewing wildlife. For many people, scenic white water rafting in Colorado is the trip of a lifetime.
Browns Canyon - Arkansas River
Browns Canyon runs along the Arkansas River between the quaint mountain towns of Buena Vista and Salida. According to the USDA website, "The distinctive environmental features [of Browns Canyon] consist of many mountains, canyons with glacial characteristics, giant moraines or ridges of mountain debris, and gulches." In turn, this unique landscape creates a habitat for a variety of wildlife, including elk, mule deer, bighorn sheep, and more. This makes Browns Canyon some of the most beautiful rafting in Colorado.
Echo Canyon River Expeditions offers multi-day trips that travel through Browns Canyon. During breaks from the white water action, our knowledgeable guides will educate your whole group on the natural and historical significance of the region. Bird lovers, naturalists, and fishermen especially enjoy the unique splendor of Browns Canyon.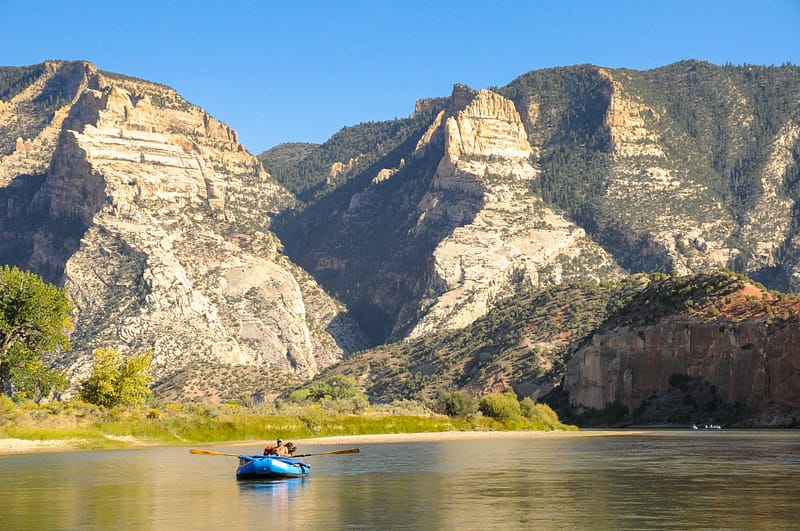 Dinosaur National Monument - Yampa River
Dinosaur National Monument is an extremely unique area with jaw-dropping geologic features and world-famous fossil beds. The monument crosses the Utah border in the far northwestern corner of Colorado. There is immense natural and cultural history in the region, as well as an abundance of wildlife situated among the sandstone canyons of Dinosaur National Monument.
For those curious explorers out there, the Yampa River offers a great way to access Dinosaur National Monument by raft. Due to the remoteness of the region, most rafting adventures on the Yampa River are overnight excursions lasting 3-5 days. While there isn't a tremendous amount of white water in Dinosaur National Monument, a relaxing float is a great way to spot fossils, petroglyphs, and interesting wildlife along the shoreline.
Glenwood Canyon - Colorado River
Anyone who has driven through the state of Colorado on I-70 knows well how beautiful Glenwood Canyon is. Ancient geology and the Colorado River are responsible for carving this natural wonder deep in the Flat Tops mountains. As the Glenwood Springs website explains, "powerful plate tectonics pushed up the Flat Tops, directing large amounts of water and debris to flow through an ever-narrowing channel known as Glenwood Canyon."
The Colorado River in Glenwood Canyon offers mellow rafting for families and nature enthusiasts alike. When floating through Glenwood Canyon, be sure to keep an eye out for elk, mule deer, bighorn sheep, and bald eagles. There are also beautiful tributary streams flowing into the Colorado River – many adorned with tranquil waterfalls.
The Royal Gorge - Arkansas River
The Royal Gorge near Canon City is known for its fishing, rafting, and fresh Rocky Mountain water. This 1,000-ft deep gorge runs for over 10 miles, with towering walls falling away directly to the banks of the Arkansas River. The Royal Gorge Region is also known for its rich mining history and wild west legacy. Tourists and boaters alike enjoy the awe-inspiring Royal Gorge Bridge that spans the width of the canyon.
In fact, the Royal Gorge is famously one of the best places to white water raft in Colorado. Rafting the Royal Gorge is one of our most popular activities at Echo Canyon River Expeditions. Guests flock to the area to test their might against Class IV-V rapids during the early season in May and June. For more relaxed trips where you can study the canyon walls for wildlife and historical sites, we recommend doing a Royal Gorge trip on the Arkansas River in July or August.  
Experience the Most Scenic White Water Rafting in Colorado with Echo Canyon