End of Season Guide to Whitewater Rafting Gear Maintenance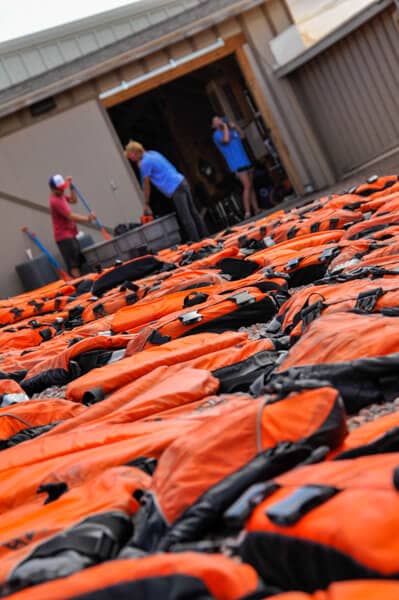 As the river flow slows and the mornings reveal frost-covered trees, raft guides must accept that their favorite time of year is coming to a close. To set themselves up for a smooth opening season the following year, all gear must be carefully prepped for roughly 6 months of storage.
Getting this right not only makes their jobs easier the coming year, but it can save the outfitter from having to recoup damages that come from stagnant water or little critters making themselves at home.
While care for life vests and helmets is pretty straightforward, employees have to be much more thorough with the rafts themselves. To keep the rafts in impeccable condition, the following steps are required.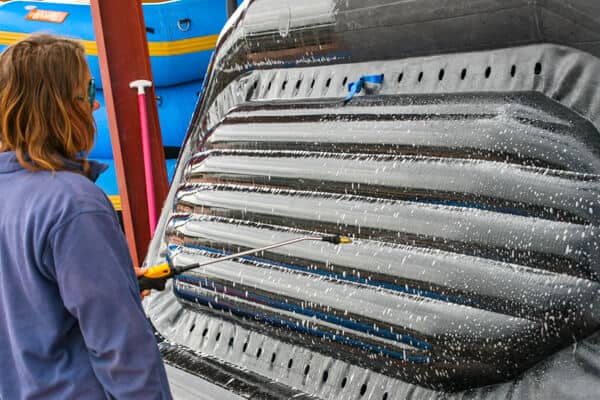 Before we put our rafts away for the season, we like to give them a thorough washing. Using soap, water, and a power washer we get to work!
We make sure that every whitewater raft is spotless. We're talking about getting into every nook and cranny, even those tight junctions where our guests shimmy their feet in to help them stay put as we paddle through the rapids.
A thorough cleaning ensures that there aren't any sticks or rocks that could puncture or wear on the deflated raft during storage.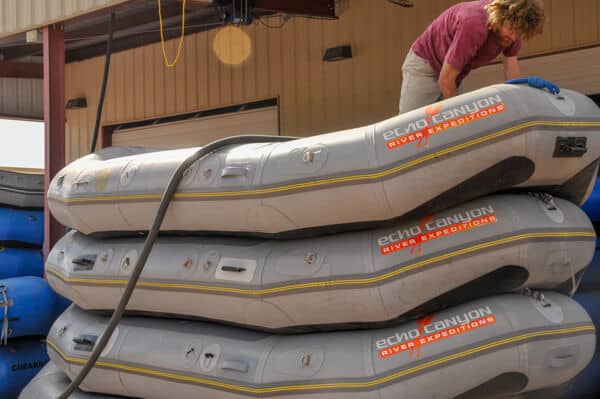 Have you ever left something wet in storage for months? If so, you may have been met with unfortunate odors or unexpected damage. The same things can happen with our rafting equipment.
One of the biggest dangers with water and rafts is the potential for that stagnant water to damage and degrade the glue holding the raft together. Raft material or seams can delaminate and before long your top-of-the-line raft is no longer… top-of-the-line.
To avoid the need for raft repair or replacement, we ensure that our rafts are dry inside and out. The outside is pretty simple, but the inside takes sucking stray water right out of it. A shop-vac does the trick, followed by steady flow of air into the raft chamber to remove residual moisture.
Step 3: Apply 303 to the Rafts
The sun's rays are impressively strong, as anyone who's experienced a bad sunburn can tell you. Over time, even heavy-duty rafting material can be broken down without adequate protection.
As part of raft maintenance, we use 303 Aerospace Protectant on our rafts made of hypalon material. You can think of 303 as sunscreen for your outdoor equipment. It even helps to keep our rafts from fading too much in the sun, and helps keep them soft and pliable. Putting on an extra layer before storage gives us a head start for next season's rafting.
Step 4: Organize the Rafts
At Raft Echo, we have a specific spot for everything to go. By making sure that everything is organized and in the right spot at the end of the season, it makes our lives much easier come next year.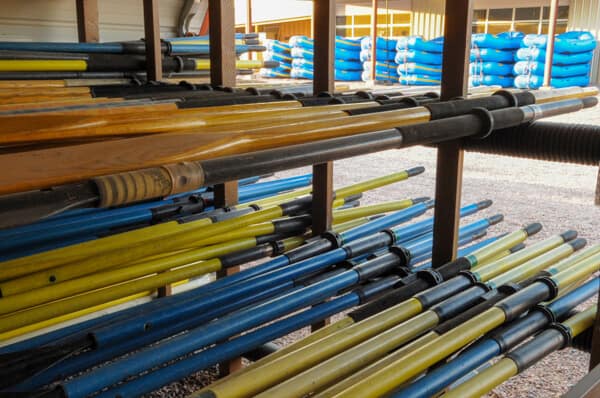 All rafting gear must be stored in a way to protect it from weather and animals. To keep the gear safe, it is:
Stored off of the ground: This protects from things like flooding, concrete, and rats.
Kept in a locked facility:  Proper storage in a secure facility keeps everything safe.
Protected from critters: Moth balls and animal traps can protect the rafts and other gear from being made into homes for moths, mice, or rats.
Covered: Using tarps and clean cloth over the rafts provide an extra layer of protection against critters and moisture.
Closing down a rafting outfitter for the season takes hard work. But the extra effort is worth it to keep top-of-the-line gear in great shape. Plus, proper storage means a smooth start to the following rafting season. This makes it so we can hit the river as soon as conditions allow, sharing our passion with our guests on beautiful rafting trips in Colorado.