White Water Rafting for Corporate Team Building
White Water Rafting for Corporate Team Building
So you're in charge of organizing your annual team building event. You'll want to find something that everyone will enjoy that's a bit more fun and creative than bowling or a picnic with games. 
Team building is all about teamwork and growing together. The best experiences are those that offer a fun challenge where everyone works together. If you live in Colorado, there's one activity that can instantly bring a team together that your coworkers are sure to enjoy: group white water rafting.
How is White Water Rafting Team Building?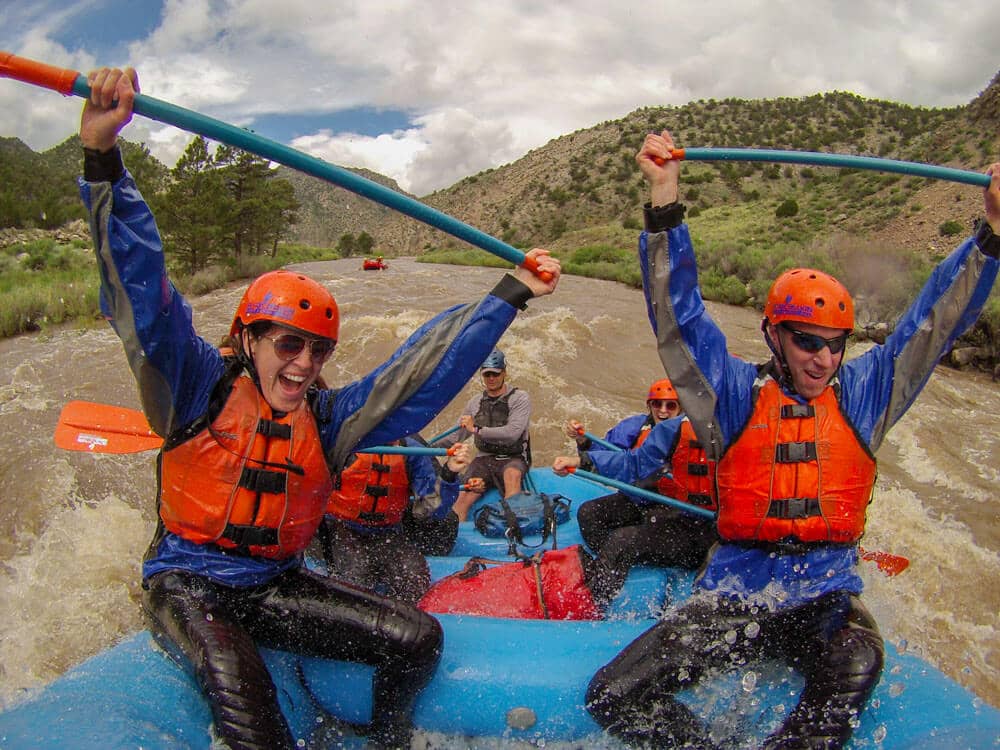 Corporate team building activities are those that promote team bonding and enhance the cohesion of your team. The ideal team building experiences encourage communication while everyone works towards a common goal.
White water rafting requires everyone to participate, communicate, and work together to get down the river safely. What's more, all of this is done in an environment that is fun and exciting! When you paddle through exciting sections of white water, you can't help but smile, laugh, and enjoy your day out in the wilderness.
Rafting encourages even those who rarely work together to join together in a fun, team activity. With the added benefit of rafting being an exciting outdoor adventure that many would love to do, team building white water rafting is unique in all the right ways.
If you're considering a rafting adventure for your next corporate team building day, read on to find answers to the questions you're likely asking yourself.
How Many People Fit on a Raft?
Each raft includes up to 7 people with one raft guide. If you have a large group, we can break your teams up into multiple groups. This can be great as different groups can raft different sections of the river, with those looking for a thrill joining together, and those looking for more of a "lazy river" experience grouping off for the day.
We try to fill every spot on our rafts, especially on busy days, so if your group doesn't divide evenly by 7, some members of your group may be paired with another group. If you want to ensure that a raft is only filled by your group, you can always purchase the extra spots to assure exclusivity.
Some of Our Group Have Never Been Rafting Before - What Are Your Recommendations?
We have trips perfect for the beginner rafter, so no experience is necessary to spend a day rafting the Arkansas River. Just give us a call so we can work with you to find the perfect rafting trips for your team. And remember, we can break your team up if some would like more challenge than others.
What are Your Group Discounts?
If your group has 10 or more people, you may qualify for a group discount. Give us a call and we can let you know what it would cost to take your group on a corporate team building rafting adventure.
What Should We Do After Rafting?
After rafting, you can come together for draft beers and delicious food at our headquarters at 8 Mile Bar & Grill. Here we have large tables perfect for everyone to sit together and wind down, sharing stories from the river while enjoying tasty food and a beer or two.
Are You Ready to Book Your Next Team Building Experience?
If you want your next corporate retreat to be an unforgettable experience, give us a call today. Planning a corporate team building activity doesn't have to be challenging or time-consuming. We will help you with every step of the process, making your job easy.
We offer trips perfect for all experience and adventure levels within driving distance from Denver. Give us a call to plan your team bonding trip today!