Top Colorado Vacation Destinations
Colorado is famous worldwide for its amazing ski slopes, with celebrities and nature-lovers coming from far and wide to experience the fluffy powder that we're known for. But it isn't just our mountain towns that people flock to. 
In this article we're going to share some of the best Colorado vacation destinations that can be enjoyed by locals and foreigners alike. These vacation spots appeal to a wide range of travelers, from mountain bikers and fly fisherman to families with young kids. From our bustling capital city to one of the best outdoor venues in the world, Colorado has something for everyone.
Our Ten Favorite Colorado Vacation Spots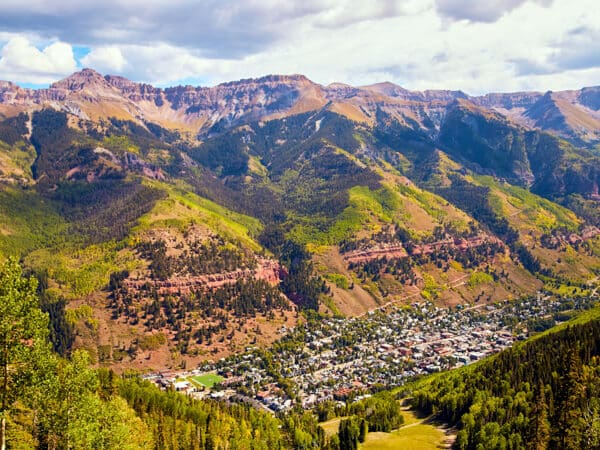 To the far west of Colorado lies the beautiful mountain town of Telluride. From the center of town, you can see the cascading Bridal Veil Falls as you peruse local arts and crafts and enjoy culinary delights. And when it comes to outdoor adventure, there are tons of options here. You can ski or snowboard at Telluride Ski Resort, go whitewater rafting, explore seemingly endless biking and hiking trails, and even visit during the summer for music festivals and street fairs.
2. Cañon City and the Royal Gorge
Being that our headquarters are located in Cañon City, we might be a bit partial, but that doesn't negate the breathtaking beauty and rugged adventure that's to be had in this beautiful region of Colorado. The Cañon City region is home to the Royal Gorge Park, a top tourist destination in Colorado. You will find thrilling whitewater rafting, gold medal fishing, the highest suspension bridge in North America, a sky coaster, zip lining, mountain biking, and one of the best train rides in America along the Royal Gorge Route Railroad.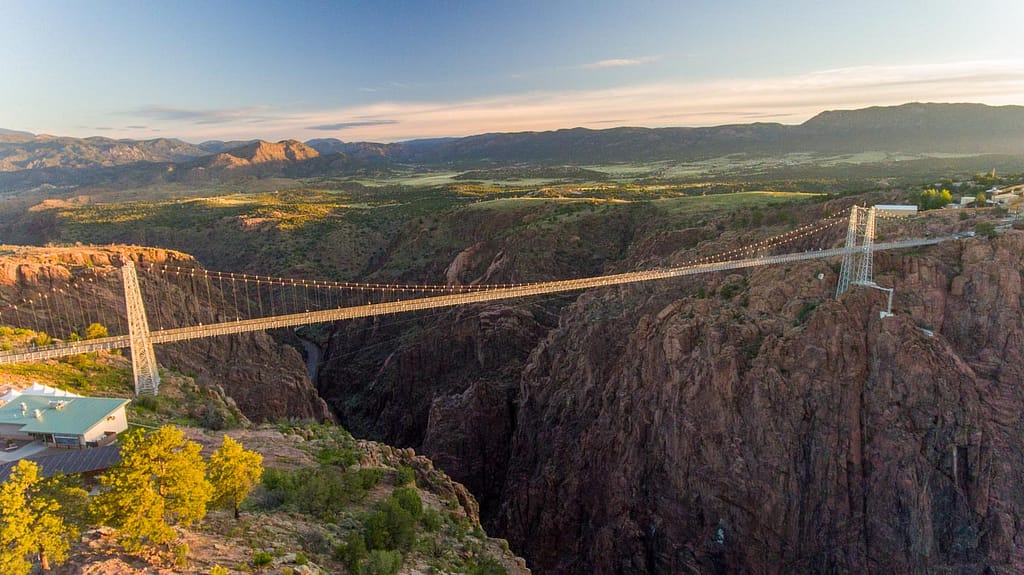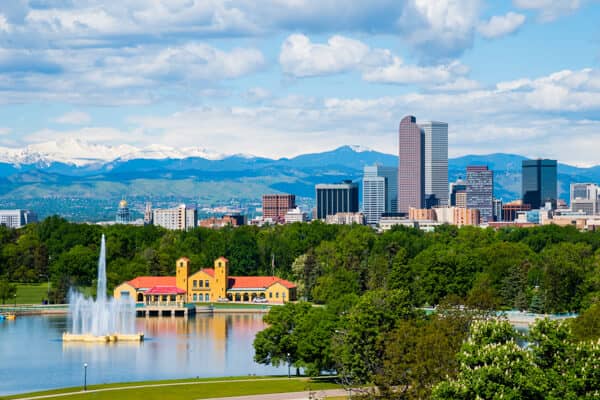 Denver, Colorado was once most commonly a stopover for those who came to explore the Rocky Mountains. But as time has passed, our capital city has become increasingly popular with tourists. Denver offers amazing dining and many places to visit with the family, including an amusement park, an aquarium, the Molly Brown House, and many other sites to see. Plus, Denver is a very sunny city where you can spend your evenings watching colorful sunsets as the sun dips below the mountains to the west.
4. Manitou Springs & Pikes Peak
Just outside of Colorado Springs at the base of Pikes Peak is the small, colorful mountain town of Manitou Springs. Once home to the Arapaho, Cheyenne, and Mountain Ute tribes, you can visit the Cliff Dwellings museum to learn more about America's history. When you visit, don't skip Cave of the Winds, where you can trek through caves and marvel at stalagmites and stalactites. Because this town is located at the base of one of Colorado's most well-known 14ers (mountains towering over 14,000 feet in altitude), you can drive up and visit the top, or challenge yourself with a multi-day hike or mountain biking adventure.
5. Red Rocks Amphitheatre
I've been a frequent visitor of Red Rocks Amphitheatre for many years, and over this time have met countless people who've traveled hundreds or thousands of miles to see their favorite artist at this gorgeous amphitheater that overlooks the city. Their concerts cover a wide range of genres, from electronic music and top 40 artists to classic and alternative rock. 
And if you're not looking to attend a concert, you can still enjoy the beauty of Red Rocks in other ways. During the summer they show movies at Film on the Rocks, you can workout at Fitness on the Rocks, or you can visit and go on a hike or do your own workout on the many steep stairs.
6. Great Sand Dunes National Park
Did you know that you can go sandboarding in Colorado at the tallest dunes in North America? Our state has a beautiful expanse of light tan sand that appears to have come from nowhere at the base of the Sangre de Cristo mountain range. Known as the Great Sand Dunes National Park, there's no place like it in any other part of the state. Everywhere you turn are beautiful mountains that you can explore after you've finished a day having fun on the dunes.
We would be amiss if we left out a favorite ski town of celebrities and outdoor enthusiasts alike: Aspen. Located in the Rocky Mountains a few hours west of Denver, you'll find the epitome of luxury here. Whether you visit during ski season or not, there are fine dining restaurants run by some of the best chefs in the country, luxurious spas, and five star hotels that leave you wanting for nothing. If you want to visit for the cheap, try camping near this beautiful portion of the Rocky Mountains.
Steamboat Springs is a bit further from Denver than many of the popular mountain towns, but this small city is full of Rocky Mountain charm. There are festivals and events throughout the year, and one of the most beautiful natural hot springs in the state, Strawberry Springs. Here you can sit in a variety of different natural pools surrounded by forest. Come on a clear night and you'll be greeted by a canopy of starlight.
9. Mesa Verde National Park
One of my favorite collection of ruins that I've seen anywhere in the world are those of the Pueblo people located in Mesa Verde. Among a sweeping landscape of cliffs dotted with green, yellow, and red, you'll find over 600 cliff dwellings, some over 1,000 years old! You can climb down the ladders and imagine what it would've been like to live in the American west long ago.
Boulder, Colorado was a long-time favorite amongst hippies. While it still has some alternative charm, there's more to this charming city nestled at the base of the mountains. Downtown is filled with local cuisine and shops to enjoy, and it's surrounded by camping and hiking spots galore. It's been called "the city nestled between the mountains and reality," giving residents and visitors a wonderful combination of the beauty of nature and the conveniences of modernity.
Are You Ready to Explore Colorado?
Whether you're a Colorado local or a tourist from afar, you can find destinations that appeal to families, nature loves, adventure seekers, and city connoisseurs alike. One of the best ways to explore Colorado is to travel by car, stopping along the way to visit many different sites. You can spend your nights camping, glamping, or renting cabins in the beautiful mountain towns.