Being A Raft Guide At Echo Canyon Is The Best Summer Job In Colorado and Here's Why
Written with passion by a former raft guide
Are you an outdoor lover who's looking for the ultimate fun summer job in Colorado? Would you like to get paid to lead groups on exciting adventures?
Yes!
Sounds like training to be a raft guide is the outdoor job you've been searching for!
A raft guide job? Sounds interesting, tell me more.
Gladly! I'm a former raft guide with five wet and wild summers guiding boats down the mighty Ark (that's guidespeak for the Arkansas River). In my experience, it's a great job if you're into: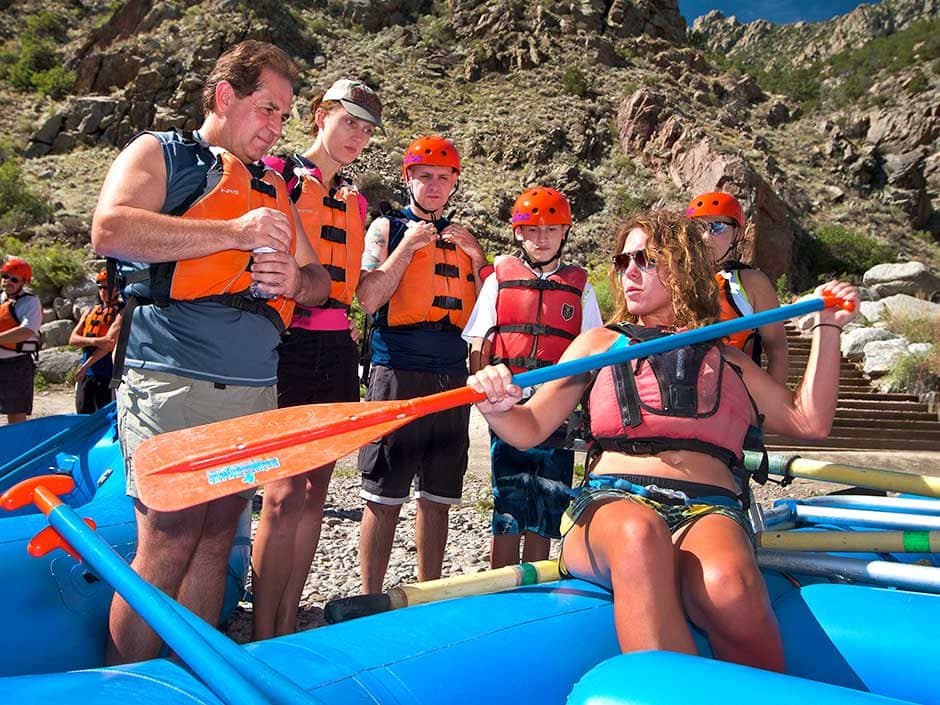 Having loads of fun at work 

Making lifelong friendships 

Spending all day, every day in the great outdoors

Working and playing harder than you ever have 

Learning life-saving whitewater skills

Dazzling your audiences with fascinating stories, witty jokes, and local historical facts

Playing a key role in creating the highlight of someone's vacation (seriously, you'll change lives!) 

Committing to a season-long summer job in Colorado 
Echo Canyon guide training has been turning out the most capable, knowledgeable, and best-looking river guides in Colorado since going rafting became a Thing.
But you've probably been rafting a bunch if you want to be a guide, right?
Not necessarily! I'd been rafting exactly one time before I took the plunge into guide training. 
Oh, and I'd purposely chosen to sit as close to the guide because I was scared of falling out.
Do people really fall out? Will I fall out? Isn't the water cold?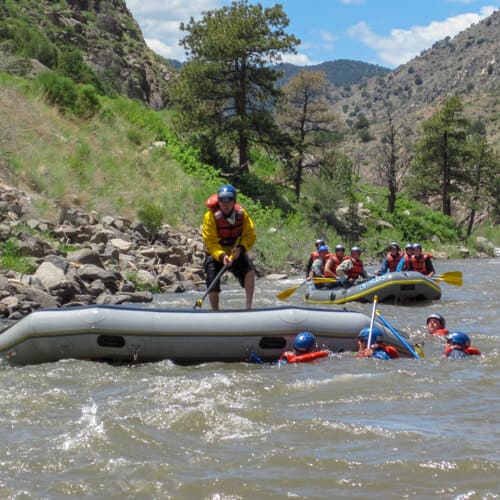 Yes, yes, and yes. There's a 100% chance that you will become a member of the Arkansas River Swim Team. That's because, as a guide, you need to know how to safely swim and navigate a rapid in or out of your boat. 
A major part of guide training is learning how to react in just about any scenario, including when you and/or a member of your crew end up in the (cold) drink. Every day will be practice, practice, practice.
You'll also learn that taking a quick dip in the river can save you the hassle of showering later on — bonus!
How do I know if I'm proper guide material?
Helpful traits if you want to be a guide include: 
You're physically fit: Training is incredibly exhausting, so folks who are in good shape have a much easier time

You love being outside: Your office is the Arkansas River, and the trips don't stop when the rain, wind, hail, and thunder starts. It's important that you are passionate about sharing this outdoor experience with your guests, even in less-than-ideal conditions. 

You've got the Gift of Gab:  You can't expect the river to do all of the work for you, you're doing more than just guiding rafts! In between rapids, you're telling stories and entertaining your paddlers.

You work well with others: Your fellow guides are your family off of the water and your safety net when you're on it. Good communication skills are a must.

You love to work hard: Guide training is demanding and the days are long, but it's an incredibly rewarding experience if you can stick it out 
You have to be comfortable with being uncomfortable, and be willing to work and play equally as hard. During training, your day is packed, and there's a strong chance that you're going to spend a lot of time feeling wet, maybe cold, probably hungry, and by the end of the day, utterly exhausted.
Wow, this is a lot of information, but I'm interested! Where can I learn more about signing up for guide training?
You can get more information about signing up for guide training at Echo Canyon by visiting our rafting jobs page right here.
I loved my time as a raft guide, and I hope you will too. What I thought was only going to be a seasonal summer job in Colorado quickly turned into the most intense, fun, hard, thrilling, terrifying, and gratifying five summers of my life. 
To this very day, some of the closest friends that I have the ones I made on the Ark. Ask any former raft guide and they will not hesitate to tell you a similar story. (And then they won't shut up about rafting so open that can of worms when you've got time to hear all about it.) 
With that, I leave you with my best wishes for warm days, big water, and the best experience you'll have in this lifetime.