Wildlife Along the Arkansas River
What Type of Wildlife Can You See Along the Arkansas River?
When I was a kid, riding in the back seat of my parent's car as we navigated the mountain roads of Colorado on vacations, I would press my nose into the glass, fogging it up in an attempt to glimpse any type of wildlife.
Fast forward thirty years and nothing has changed. The only difference is now I am the driver, so I have to wait until I get out and start exploring before I get to take my turn looking for eagles, deer, bighorn sheep, and the elusive mountain lion in their natural habitat.
Trips to the Colorado Mountains are amazing for wildlife viewing. Even better than driving? Coasting down the Arkansas River along remote stretches of wilderness. When you take a rafting trip down the sparkling river, you have a unique opportunity to spot wildlife in their habitat, away from loads of people and cars.
Arkansas River Animal Viewing Guide
As you travel along the Arkansas River, there are three places that you will want to keep a lookout for furry, feathery, and scaly creatures: the land, the sky, and the water.
The Animals You'll Find on Land
When looking for wildlife, many of us stare into the forest and along the river bank, hoping to experience some memorable—and maybe even photo-worthy—moments.
Amongst the trees and grass you will sometimes spot deer, squirrels, and chipmunks. When you peer up along canyon walls on a Bighorn Sheep Canyon rafting trip, you will often find a family of bighorn sheep scaling the steep cliff walls.
As it comes to the bigger mammals, like mountain lions and bears, it isn't impossible to spot one, but they are notoriously difficult to spot during the day. Remember, mountain lions are nocturnal, and bears are out and about at dusk and dawn.
The Birds You'll Find Soaring Above
The most exciting birds to spot are typically the birds of prey. These birds have vast wing spans and are commonly found circling above, keeping a lookout for potential prey.
You will most often see hawks and falcons, such as the Peregrine Falcon. Our guides have also spotted Golden Eagles and the occasional Bald Eagle, our national bird that was once an endangered species. When it comes to seldom-seen or endangered species, it's the birds of prey that you are most likely to spot thanks to their flying out in the open.
If you go on a camping trip along the Arkansas River, maybe as part of a multiple day rafting trip, you may spot owls at dusk and dawn. Additionally, there are all types of migratory birds that your raft guide can fill you in on.
The Creatures You'll Find Swimming Below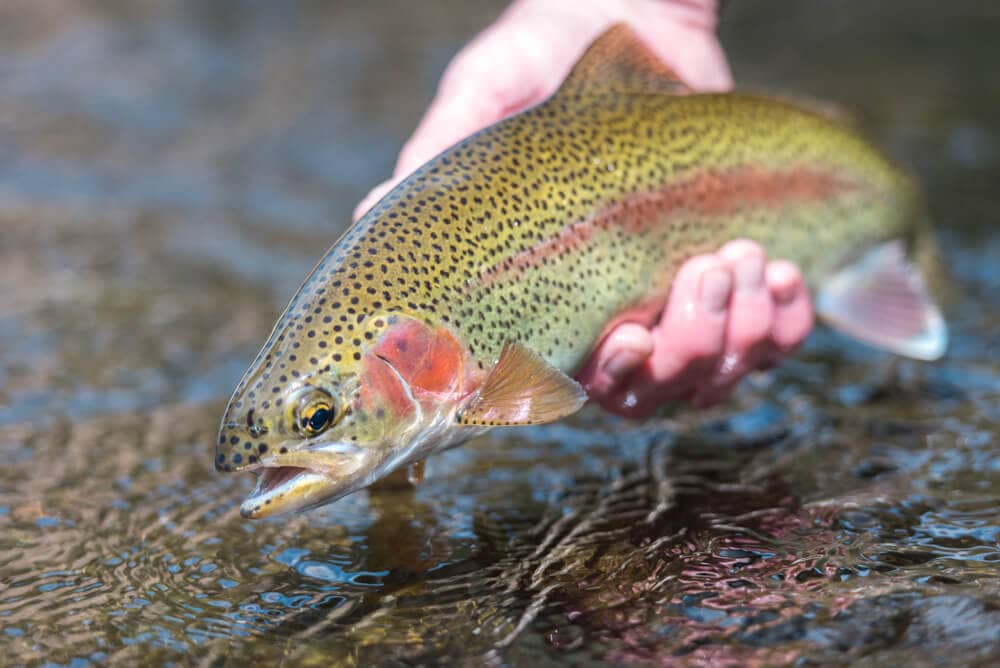 Interspersed with periods of paddling down the river, you'll find calm stretches when you go on a raft trip. With clear water at medium and lower flows, you can often see a variety of shiny fish swimming this way and that in their freshwater habitat. One of the most beautiful is the rainbow trout.
If you enjoy fishing, give fishing a try here on the Arkansas River which boasts some of the best gold medal fishing waters in the country. Here you can either practice catch-and-release or bring home some dinner for your family!
Spotting Animal Species Along the Arkansas River
When you fish or take a rafting trip along the Arkansas River, you will be surrounded by native species. On a group rafting trip with Raft Echo, our guides are wildlife experts and will help you spot wildlife and fill you in on some interesting facts about the Arkansas River basin. Give us a call to schedule your exciting trip down the river that just may include some fun wildlife viewing today.