Royal Gorge Dinosaur Experience
Explore the Dinosaurs of Colorado's Past
Take a trip back in time when dinosaurs ruled the forest and seas of Colorado! Kids and kids-at-heart will love the Royal Gorge Dinosaur Experience located next door to Echo Canyon River Expeditions. Experience the Museum Tour with over 10,000 square feet of exhibit space,  and get up close to 16 life-size animatronic dinos on the Dinosaur Wild Walk. Or, test your skill and balance on the 3-story T-Rex Terror Ropes Course! Fun for the whole family, add this newest family attraction to round out your Royal Gorge region vacation. Due to limited availability please call us to reserve this tour.
Realistic, Life Size Dinosaurs
Three Ways to Experience Dinos!
With three unique experiences within the Dinosaur Experience attraction, we want to give guests the option to enjoy just one of the three options, saving you time and money. Reserve one of the three attraction options at a rate of $12 for adults, $8 for children ages 12 and under. If you decide you'd like to add one of the other 2 attractions, you can add the additional options at a rate of $10 for adults, $6 for children.
1. T-Rex Terror Ropes Course
Take on the thrilling 3-story Ropes Course – bringing you face to face with an 80-feet long Diplodocus! While tethered in a full-body harness, move as fast as you dare from one obstacle to the next while taking in the incredible views of the famous Royal Gorge Bridge and distant Sangre de Cristo Mountains from your perch 24 feet above the ground.
Please note the following weight, height and clothing restrictions for the Ropes Course: Please no dresses, flip-flops, sandals without ankle straps, high-heel shoes, or any other type of shoe that falls off easily. Also, participants must be at least 4 feet tall and weigh less than 300 pounds.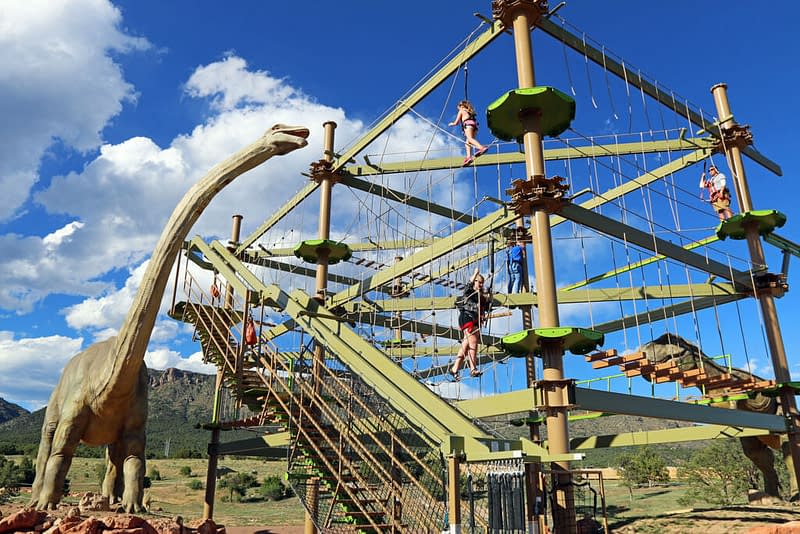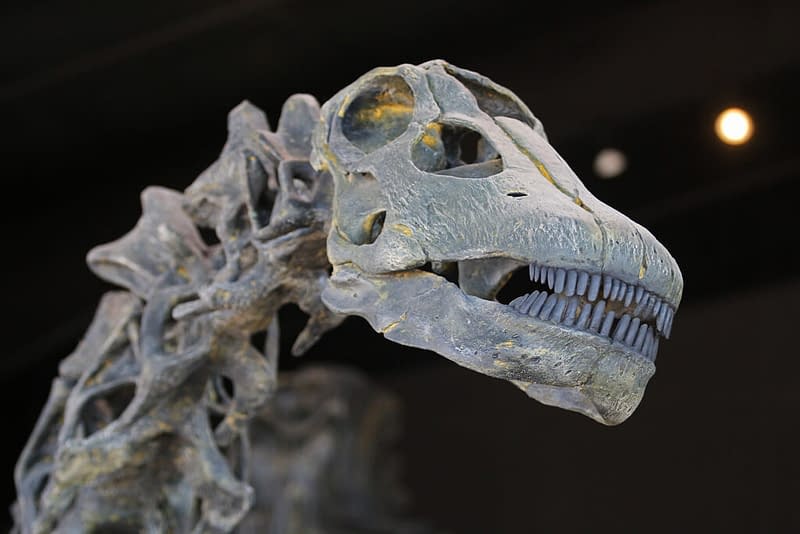 The Museum Tour features 10,000 square feet of indoor museum space with a number of fossil casts of creatures that lived right here in the Royal Gorge area. An indoor interactive center for kids will keep them entertained and learning, while the theater features a ten foot screen with rotating dinosaur-themed films. Choose to wander among the exhibits at your own pace, or take the guided tour which is included in your admission cost. Tours usually last around 45 minutes and do not require reservations.
The Dinosaur Wild Walk is an outdoor stroll on a compacted dirt trail meandering among 16 life-sized animatronic dinosaurs. The realistic creatures track your movements and will surely surprise you with life-like movements and sounds!